Here in the Philippines, one of the most considered places where it's uncomfortable and dirty for some is the wet market. Other than the fact that fresh food is scattered, what you'll be walking on would be full of water and dirt because of the fact that it's stampeded by people almost every hour of every day. But have you ever thought of such a place to be digital? Well, the new Marulas Public Market in Valenzuela City is the first of its kind to be "cashless." Yes, this new market is a digital market/digital palengke "DigiPalengke" and is ready to serve people who need to purchase goods from the market.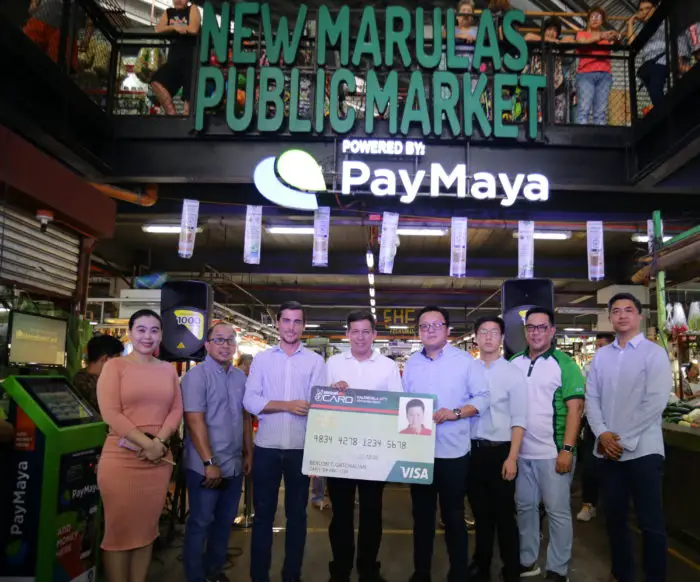 This DigiPalengke is made to serve people better and to enjoy doing transactions without the fear of having too much cash on-hand. The systems were courtesy of Primetech Solutions Inc., PayMaya, and the city of Valenzuela. Moreover, this was opened exactly at the 395th foundation day of the city.
Read: High-Tech Electronic Gates in Davao Airport
Watch the video from ABS-CBN news and some of the updates about the cashless palengke below. You will see how it's set up, how people are able to transact, and how the operations go about.
What is PayMaya?
To give you some sort of a refresher, PayMaya is an application which allows you to transact without the use of concrete, tangible money. You can think of it as a virtual prepaid card which you can use for online transactions like booking a hotel room, a flight ticket, or even purchasing items online.
Read: NBI Advises Online Shoppers Who Are Paying Through Remittance Centers
Furthermore, PayMaya has over 15,000 partners nationwide so, it simply means that they're wide and can accommodate a lot of shoppers. Some of the few and most notable partner-merchants would be 7-Eleven, SM Stores Business Services, Palawan Express Padala, Robinsons Department Stores Business Centers, and more.
Read: PayMaya: Your card for online shopping
People can also utilize it to send money, to pay bills, and a lot of other functions. If you're curious and unaware of it, you can visit the PayMaya website.
Just to emphasize, PayMaya also has a physical card. This physical card is what people can use in order for them to transact with different establishments physically without them displaying their phones for the Quick Response QR Code. The card owner can use this card both locally and abroad; it bears an EMV chip which makes each and every card unique.
How can people transact in this cashless palengke?
By using the system, people are able to transact using some sort of a city ID called the "Valenzuela Ako Card ID" or VCard. It is like a citizen identification and payment card and can be utilized by the residents of Valenzuela. Although other modes of payment are also accepted and acknowledged, PayMaya empowers them.
With this, PayMaya was able to set up at least 200 vendors to have the QR payments acceptance scheme. This enables the vendors to receive payments through the PayMaya app without the hassle of looking for change.
Rex Gatchalian, Valenzuela City Mayor, said that this new payment system would enhance the city's economic growth.
This is truly a groundbreaking initiative that will help foster the economic growth of Valenzuela as it charts a path toward being a true 'digital city'. Cashless payments are secure, convenient, and transparent, which makes delivery of government services much more efficient through the PayMaya-powered VCard ID."
In addition to that, Paolo Azoola, COO and managing director of PayMaya Philippines said that this move of the city would later be looked at as the pillars of cashless payments in the future.
We congratulate the city of Valenzuela for leading the charge in the launch of their very own VCard ID and the 1st 'DigiPalengke' of the North–a true digital financial inclusion initiative that will bring the benefits of cashless payments like PayMaya to the people who need it the most."
During the launch, people who utilized the PayMaya app to transact in the wet market for a minimum of P250 was able to get  a half-kilo of rice to add to whatever they've bought; some kind of a freebie that both PayMaya and the government gave patrons.
While we see the advantages of the cashless palengke, are there cons to this move as well?
One of the advantages is that people won't have to bring cash in the markets when they shop. Both the stall owners and shoppers don't need to haggle for change. In addition to that, they're also entitled to receive rewards and discounts by using the PayMaya app in the cashless palengke.
However, there would also be a downside because people would most likely be bringing their phones to the wet market. What's bad about it is the chance that the phone can be wet which eventually leads to it being broken.
People may have their cash on-hand safe, but they're putting a larger risk at their phones that they would be bringing.
Valenzuela City is starting to get digital with the move they made with the cashless palengke. Their goal to join the community of cashless transactions is already starting. Hopefully, this will lead to better, faster, easier, and more efficient ways to transact in places where we won't be able to imagine cashless transactions to be possible.