With the rising cases of the 2019 Coronavirus Disease (COVID-19) in the country, many people took this as an opportunity. Some bought large volumes of face masks so they can sell it to the people with mark-ups.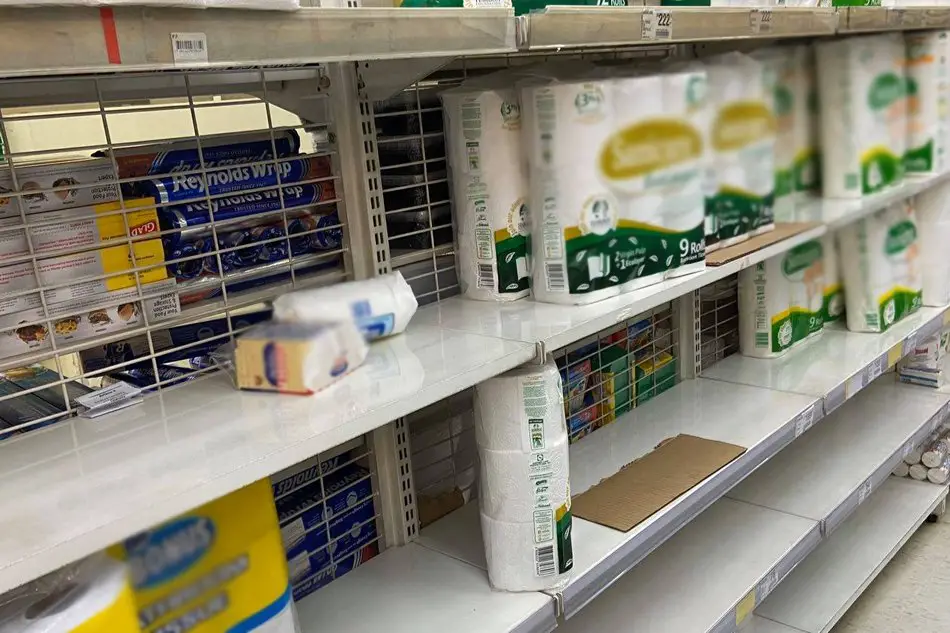 But due to the rising issues about spiking of prices, the Office of the President came to a resolution. Just today, Salvador Panelo, Presidential Spokesperson said and warned all individuals who are stockpiling key commodities that should they get caught, they'll be arrested.
In a statement, Panelo said that this "strategy" has become rampant; and most people are doing this for their own sake. So, in order to control this, they'll take action.
Read: Curfew For Minors For Safety as Per the NCRPO
The Office of the President hereby gives warning to those hoarding vital commodities, which create a hike in the prices, as well as selling them beyond their regular prices, that their actions will be dealt with accordingly in pursuance of public safety and order."
People taking advantage of the health crisis
Thousands of people are seeing the fact and the blow of the COVID-19 to be a business opportunity; more so, they're looking at it as a technique and a strategy so that they can earn bigger and better.
Panelo warned people who would take advantage of the COVID-19 pandemic by stockpiling key commodities will be arrested. Moreover, they'll be dealt with in accordance with the law.
Read: Common Everyday Things That can Put You at Risk For the COVID-19 Infection
Those who unscrupulously take advantage of the health crisis will also be arrested and dealt with in accordance with law."
Why are prices skyrocketing?
The basic rule of supply and demand applies; when the market deems that the demand of the people exceeds the supply – the suggested retail prices would definitely go up.
Because of the hoarding and stockpiling of basic and key commodities, the demand is peaking; and it's becoming harder, more difficult, and more challenging for people to take and to purchase the things they need.
However, hoarding and stockpiling key commodities isn't the only problem; it also involves the panic-buying marathon that people exercise. When in reality, they really don't need to panic buy – the Philippine government even said that they're prepared when a lock down happens.
Read: The Coronavirus Has Mutated And It's a Lot Scarier Than How We Knew It
The Palace on panic-buying
After hearing news and reports about people panic-buying, the Office of the President immediately let a statement out regarding the issue. Panelo said and appealed to the public that they should only purchase what they need – that panic-buying will just result to hoarding.
This would only result in undue hoarding and price increases. Our officials from the Department of Trade and Industry (DTI) gave assurances that we have ample stock of essential items."
In addition to that, the DTI also said that there's no real reason why people should panic. They even went and gave merchants a reminder of the 60-day price freeze, which is a strict implementation on all key and basic commodities because of the pandemic.
Read: DOLE Urges Employers to Allow Extra Leaves For Their Employees Due to the COVID-19
What can we do?
If we are to talk about what we can do to help in the situation, the Office of the President suggests that people cooperate in making sure that the virus is contained. Moreover, Panelo added that people should not spread fake or unreliable information about COVID-19.
He said and urged the public to not spread and circulate "unverified information." This can just cause panic and unwanted instances and situations in the entire country.
Let us not circulate unverified information that may only cause unnecessary anxiety among the members of our respective communities and instead maintain good hygiene and observe proper etiquette at all times."
Read: Civil Service Exams (CSE) Suspended Due to COVID-19
With fast-paced movement of the infected, it climbed up to 49 as of Wednesday, the 11th of March 2020. The Department of Health (DOH) said and issued proclamations about both non-governmental and governmental agencies to respond to the threat appropriately.
After the news that blew about people stockpiling key commodities, did the Philippine government make a good decision about arresting people who might take advantage of it? Can this help a multitude of people in securing their health?
Aside from treating the infamous COVID-19; there are multiple ways on how you can be safe from it. Remember; the COVID-19 infection is similar to that as of a flu; and it's usually mild and it's going to be treated.
No news of a lock down has been announced yet; however, let us all take precautionary actions and measures for our sake and our safety.
Source: The Philippine Daily Inquirer