Devina Dediva, the Facebook user who maligned Filipinos after Megan Young was crowned Miss World 2013 in September, apologized to the beauty queen and the Filipinos through her Twitter account.
This was done after she apparently lost her job because of the racist comments she made against Megan and the rest of the Filipinos. In her comments, she said she couldn't understand why Filipinos will ever win a beauty pageant crown when they are poor, uneducated and smells like the comfort rooms they usually clean. 
She also tagged Filipinas as being maids. However, Devina is working as an assistant teacher in a school run by Filipino supervisors. Her racist remarks have apparently caused her job. Netizens, particularly Filipinos, also criticized her for such comments. 
Now that Devina has apologized to the Filipinos, will the issue finally end? Not likely. Filipinos are still enraged over the remarks she made, and she may as well just close her social networking sites for the meantime if she doesn't want to hear negative remarks against her. 
Here's her tweets..you'd be the judge!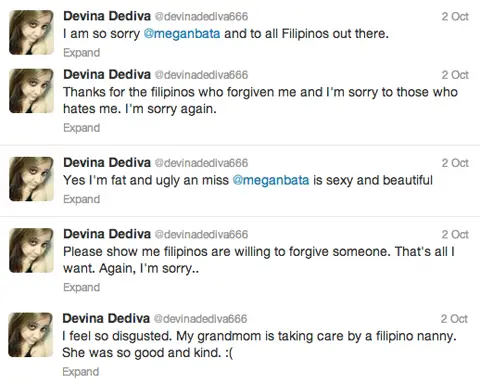 But she seems confused..