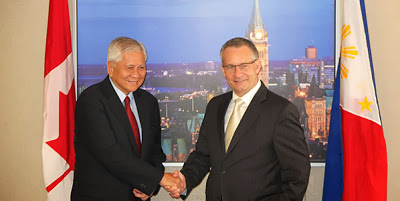 Filipinos who are looking for greener pastures can look for them in Canada. With the signing of a Memorandum of Understanding or MOU between the Canadian Government and the Department of Labor and Employment, Filipinos can apply for the 14,000 job vacancies available in Saskatchewan. Canada is also hiring in other Asian countries but in the last four years the Philippines has become the biggest source of temporary workers and immigrants. 

In fact, applicants can already try their luck because some employers from Saskatchewan are in the country and will hire workers for 150 job vacancies initially but more hiring will be done in the coming months.
Most of the vacancies are in the field of business, natural and applied sciences, health, social science, education, government service, trade, transportation, oil and gas processing and manufacturing.
There's already an existing MOU between Philippines and Canada since 2006 but with the new MOU signed by Labor undersecretary Danilo Cruz and Saskatchewan Premier Brad Wall, several updates and provisions are to be included such as:
1. Identification of cooperation priorities
2. Exchange of information; prohibition of charging of recruitment fees to workers
3. Enjoining the employers recruiting overseas Filipinos workers (OFW) outside the Philippines to course hiring in the nearest Philippine Overseas Labor Office (POLO);
4. Enforcement of regulations to protect workers.
Apparently, there's a lot of labor shortage in the state even though there are around 3,000 migrants every year. A lot Canadian employers prefer Filipinos because they are proficient in English and have commendable work ethic.
Mr. Wall pointed out www.ASKMIGRATION.com for having around 10,000 job vacancy listing.
So, for those looking for job opportunities in Canada this could be the opportunity you've been waiting for!