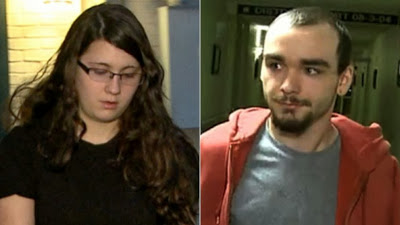 A newlywed couple was arrested by the Philadelphia police last November 12 for murdering a man just for the thrill of it. According to police investigation, Elytte and Miranda Barbour killed 42-year-old Troy LaFerrara just because they wanted to kill someone together. The couple, who has been married for only three weeks, has never met LaFerrara before the killing. 
The couple has tried killing other people before but they did not succeed. Unfortunately for LaFerrara the Barbour's plan pushed through in him.
In order to lure possible victims, Miranda Barbour uses Craigslist where she meets men and offers them "companionship" wherein she gets paid $850. Both husband and wife don't have jobs so this is their only means of living.
Miranda met LaFerrara on the said site and they arranged to meet on November 11. Driving in her red Honda CR-V, Miranda picked up LaFerrara at a mall near Susquehanna. The unsuspecting guy never knew that at the back seat, hidden under a blanket, was Miranda's husband. The husband and wife duo had arranged a signal for when it was time to kill the man so, when Miranda stopped the car and LaFerrara started touching her she took out a knife and started stabbing him. That's also the time when Elytte Barbour came out and tied a cable cord around his neck. The poor victim tried to fight but the two were too much for him. He did not die immediately Miranda Barbour told the police. He choked and gasped for air for a few seconds until he finally laid still.
The couple dumped La Ferrara's lifeless body at the back of Brittany Settler's garage. She found it the next morning as she was having her morning coffee.
After dumping the body, the Barbours drove to Walmart where they bought materials necessary to clean up the blood from the CR-V. Since the woman stabbed the victim many times there was so much blood everywhere and no matter how they tried they could not remove them all.
Investigation was not easy for the police since they did not have any leads except for the body. Luckily, they were able to trace the victim's last phone call that led them to the Barbours. Miranda Barbour denied having anything to do with the crime but with the growing evidences collected by the police she ultimately admitted her guilt. The couple is now facing criminal homicide along with other charges.
With the evidences gathered against the Barbours, police are now also investigating the death of Miranda's first husband.