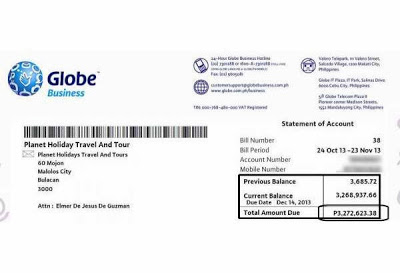 Receiving a phone bill amounting to Php 3,272,623.80 was a huge shock to Globe Telecom subscriber Elmer de Guzman. He was appalled that he could rack up this kind of phone within one month. In his annoyance de Guzman uploaded the image of his October 24 to November 23 phone bill on Facebook and it has gone viral since then. 
De Guzman already expressed that he will not pay for it because he does not have that kind of amount and it was Globe's mistake. When he first got in touch with Globe about the issue the reps told him the computation was correct since there is a breakdown of the items on his billing statement.
But after his Facebook upload got so much attention, Globe changed its tune and said it was due to system error.
Globe has made a statement about the issue. De Guzman enrolled in Globe's Bridge DataRoam Unlimited promo for his trip to the United Arab Emirates but apparently Globe's system did not apply the correct zero rate for promos on data usage.
De Guzman should be able to breathe easy because according to the network they have reversed the charges to reflect the correct amount in his billing statement.