The first Licensure Examination for Teachers (LET) for this year will be held on January 26, 2014.In connection with this, the Professional Regulation Commission has announced the list of room assignments of examinees all over the country.
The different testing centers announced by PRC are Manila (NCR), Baguio, Cagayan de Oro (CDO), Catarman Northern Samar, Baybay City Leyte (Alternate Testing Site), Cebu, Davao, Iloilo, Legazpi Lucena, Tuguegarao, Pagadin, Zamboanga and Hong Kong wherein PRC and the Board of Professional Teachers (BPT) will oversee the exam.
Tacloban City used to be the testing center in their region but due to the unstable facilities and buildings PRC designated Catarman, Northern Samar and Baybay City, Leyte as alternate testing centers last December 12, 2013.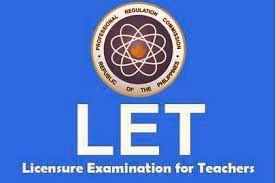 For the January 2014 LET Examinees, PRC has issued general instructions that they must observe:
Check and visit your school and room assignment a day before the examination to verify your room and seat number.
On the day of examination, report to the school/building assignment not later than 6:30 AM. Be punctual. Note that LATE EXAMINEES WILL NOT BE ADMITTED. Examination fee of absent examinees will be forfeited.
You are required to wear the following attire on examination day:

Male Examinees – White polo shirts or T-shirts with collar;
Female Examinees – White blouses or T-shirts with collar

Bring the following on examination day:

a. Application Stub with Application Number
b. Official Receipt of payment of application for examination
c. One (1) Window Envelope with metered postage stamp
d. One (1) long transparent white plastic envelope
e. One (1) long size brown envelope
f. Two (2) or more Pencils (No. 2)
g. Ball pen with BLACK INK only
h. Non-programmable calculator

The following are PROHIBITED inside the examination rooms/ premises:

a. Books, notes, review materials, and other printed materials containing coded data, information or formula;
b. Programmable calculators;
c. Cellular phones, beepers, portable computers or similar gadgets;
d. Bags of any kind (ladies' bags, shoulder bags, attaché case, backpack etc)
e. Other examination aids not stated in this program shall not be brought inside the examination building.

You are not allowed to bring food and eat inside the room.
You will not be allowed to leave the examination room, borrow anything or communicate with other examinees on any matter during the examination.
Non-compliance with test instructions shall be a ground for cancellation of your examination. 
Impersonation is a ground for disqualification in this BLEPT and in future examinations.
If you are a LET examinee, check out the list of room assignments below:
CAGAYAN DE ORO (CDO)
ELEMENTARY
SECONDARY
Catarman
ELEMENTARY
SECONDARY
CEBU
ELEMENTARY
SECONDARY
Davao
ELEMENTARY
SECONDARY
Jolo, Sulu
ELEMENTARY
SECONDARY
Iloilo
ELEMENTARY
SECONDARY
Legazpi
ELEMENTARY
SECONDARY
Manila
ELEMENTARY
SECONDARY
Pagadian
ELEMENTARY
SECONDARY
Tawi-Tawi
ELEMENTARY
SECONDARY
Tuguegarao
ELEMENTARY
SECONDARY
Zamboanga
ELEMENTARY
SECONDARY