Everyday thousands, if not millions, of Filipinos bet on the Philippine Lotto in the hopes that they will win the jackpot prize and be able to change their life. Some of these people even use their last twenty pesos bill as betting money instead of using it to buy other things like food.
Anyhow, one person's life is about to change after winning P155.4 million pesos in the Grand Lotto jackpot of the Philippine Charity Sweepstakes Office on Monday night. A lone bettor, whose identity will surely be kept a secret by PCSO, will be taking home this huge amount of money. The combination that won him or her millions is 02-38-32-19-08-03.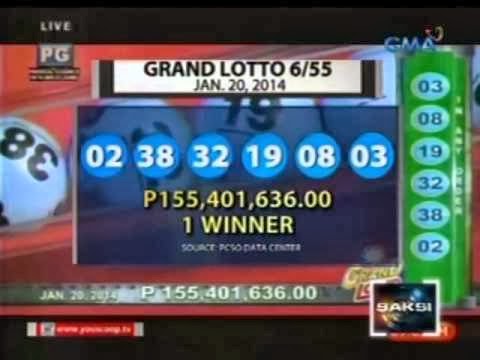 This is not the first time for the Lotto jackpot to be won by a lone bettor. There's been a series of lone bettor wins since last December 12, 2013 wherein that winner got to take home P126,350,776 for the combination 12-08-37-17-20-09.
It was followed by another sole winner for the PCSO Superlotto 6/49 with the prize money of P30,577,516 for the combination 45-39-34-21-05-19.
Last January 9 a lone bettor won P22,425,340 with the combination 21-13-19-27-20-23. January 12's Superlotto 6/49 draw also yielded a sole winner for the P24,814,752 prize money for the combination 09-21-14-27-06-19.
With such huge jackpot anyone would be tempted to bet.