Amidst the confusing reports about the disappearance of the Malaysia Airline Flight MH370, a man now claims that he saw a burning plane on Saturday. The man named Michael Jerome McKay believes what he saw was the missing Boeing Flight MH370.
McKay, who is an oil right worker at the southern coast of Vietnam, sent a letter to his employer detailing what he saw. This letter was shared by ABC journalist Bob Woodruff after he confirmed its authenticity.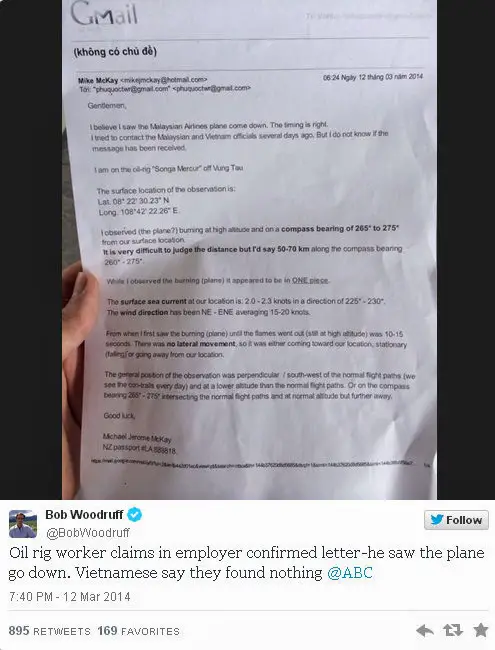 In his letter, McKay said that he believes he saw the Malaysian Airlines plane come down and that "the timing is right." In the details of the letter, McKay said he observed the plane burning at high altitude and that it appeared to be in one piece. He observed the burning object for 10-15 seconds before the flames went out still at high altitude. "There was no lateral movement" so be believes its either stationary or going away from his location.
Vietnamese officials have acted up on this claim but they did not find anything in the location mentioned by McKay.
Seven days since the Malaysia Airlines Flight MH370 disappeared and still there's no clue to its whereabouts and the fate of its 227 passengers and 12 crew members.