Deniece Cornejo voluntarily surrendered to the authorities on Monday after weeks of keeping a low profile. She surrendered to PNP chief Alan Purisima at Camp Crame in Quezon City at around 4 in the afternoon. She was accompanied by her family as well as her granduncle Rod Cornejo and his lawyer Atty. Ferdinand Topacio.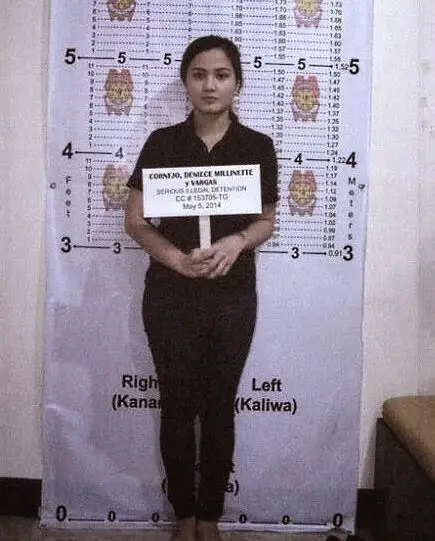 After being assured by Chief Purisima that she will be treated fairly, Deniece was moved to the PNP-Criminal Investigation and Detection Group building. She was processed under the Women and Children Protection Desk. In the evening she was brought to a detention cell at the CIDG's Anti-Transnational Crime Unit. She shared the cell with several female inmates.
Although one of the charges against Deniece is serious illegal detention, a non-bailable offense, her camp will try to petition for bail.
And today, Deniece, Cedric Lee and Zimmer Raz had the chance to come face to face with Vhong Navarro at the Taguig Regional Trial Court Branch 271.Media was not allowed inside. It's the first time for all of them to meet since the controversial incident last January 22, 2014 when Vhong was allegedly mauled by Cedric Lee and his group. In their defense, Cedric and his group also alleged that they only saved Deniece who was raped by Vhong.
According to Ginger Conejero of ABS-CBN News, Deniece's grandmother approached Vhong as he was leaving the court. Apparently, the grandmother shouted and let out expletives to the actor; however, Vhong stayed composed and simply chose to leave the court peacefully.