Jericho Rosales is single no more! The "Legal Wife" star tied the knot with his long-time girlfriend Kim Jones on Thursday, May 1, in the romantic ambiance of Boracay, specifically at the Shangri-La Boracay Resort. Both of them looked very happy during the momentous occasion. But Jericho seemed like he was on cloud nine as he walked down the aisle to wait for his bride.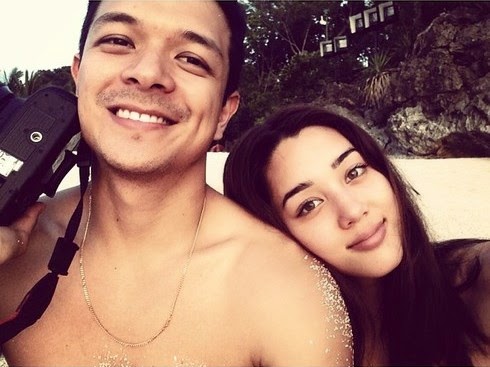 To go with the beach wedding theme Echo wore a sand-colored suit by renowned designer Francis Libiran. Kim was a radiant bride in her strapless gown with a heart-shaped neckline and lace detailing. Her hair which was styled like waves down her shoulders looked fantastic under the veil as the rays of the setting sun shone on her as she walked down the aisle with her brother. 
On, the other hand, the bridesmaids wore light blue gowns and the groomsmen wore white pants and vests with long-sleeved undershirts in tan, pink and light green colors.
The happy couple picked Boracay as their wedding venue because they both love to surf and sea adventures. Even the guests were welcomed to the venue by a surfboard with the sign "JK 05-01-14 Their forever and ever love begins here."
Guests to the significant occasion were carefully chosen by the couple. Some of them were Piolo Pascual, Donita Rose, Paolo Valenciano, Gabriel Valenciano, Iya Villania, and Coney Reyes.
Unfortunately, due to his busy schedule in taping for "Legal Wife" Echo and Kim have to postpone their honeymoon.
Best wishes Echo and Kim!