TV Patrol news anchors seem to be taking turns in annoying netizens with their supposedly unprofessional behavior. Kabayan Noli de Castro is under fire for his "rude" behavior towards reporter Winnie Cordero during her live report on Monday night.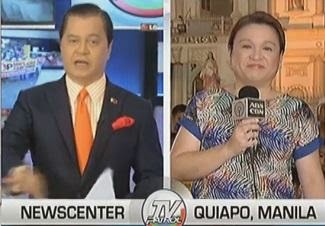 The supposedly rude behavior happened after Cordero gave her story regarding Manila's preparations for the annual Feast of the Black Nazarene. After the report, De Castro remarked that Manila Mayor Joseph Estrada should do something about the vendors who block the passages during the procession. During the broadcast, it looked like Cordero was about to clarify the matter but De Castro interrupted her and just insisted that it was not taken care of last year despite the city Mayor's assurance that he will act on it.
De Castro's demeanor towards Cordero did not sit well with the netizens. The incident immediately became a trending topic and netizens did not hesitate about sounding out their opinion on Twitter. Here are some of them.
medianet_width='300′; medianet_height= '250'; medianet_crid='436681558′;
@ABSCBNNews Hindi lang man ginalang o pinaliwanag ni KABAYAN ang ulat ni Ms.Winnie Cordero, ito po ay nakaka insulto sa manonood.
— Benj CK (@jungpark6) January 5, 2015
anong problema ni Noli de Castro, napahiya tuloy si Winnie Cordero…akala mo naman kung sinong perpekto…
— Gerome Vallejos (@GermsV) January 5, 2015
Geez! Napaka-opinionated naman ni Noli de Castro. Nakipagtalo pa kay Winnie Cordero. LOL #JustDeliverTheNews #tvpatrol #Nazareno
— Jonathan Manas (@athanph) January 5, 2015
The act that Noli de Castro showed to Ms. Winnie Cordero was very rude! Bakit di mo patapusin si Ms. Winnie sa sinasabi niya? @ABSCBNNews
— leah katrina atienza (@iamliacoi) January 5, 2015
@bayanmo @ABSCBNNews @TVPatrol Sorry pero napaka Unprofessional ni kabayan knina ky ms. Winnie Cordero nakakawalng gana manood kpg gnyan
— Angel Angeles (@cangeles2014) January 5, 2015
Grabe rin itong si Noli de Castro eh. Daming reklamo, di muna intindihin ang report ni Winnie Cordero. Daming alam.
— kritiko (@Kritiko01) January 5, 2015
Kabayan just got full on diva to Winnie Cordero.
— AGB (@AliGramme) January 5, 2015
Napahiya si winnie cordero dun ah! Grabe pagka anti-erap ni noli de castro. Si winnie nagrereport pero di pinagsalita ni noli @TVPatrol
— ✌jerome✌ (@pinoymamba24) January 5, 2015
di na nakasalita si winnie cordero dahil singit ng singit si noli de castro bv
— karen / asdfghjklCAM (@kbdpdallas) January 5, 2015
Pity Winnie Cordero whose news broadcast was interrupted by the commentary of the idiotic former VP Noli De Castro! @ABSCBNNews
— Norberto D. Bana III (@jjunbana) January 5, 2015
Mas mahaba pa yung side comments ni Noli de Castro sa report ni Winnie Cordero. Bale parang nabalewala din yung report.
— Y (@_ynigo) January 5, 2015
@TVPatrol kabayan, ikaw kaya umayos,,,,,nad
ging rude ka kay winnie cordero
— dany pascual (@DanyPascual) January 5, 2015
Di ako maka get over dun kay Kabayan at Winnie Cordero sa TV patrol!!
#pushnyoyanha
— Honey Fern Caldit (@iamhoneyfern) January 5, 2015
Napahiya si Winnie Cordero kanina. Grabe si Kabayan.
— C H A R M I E (@Sarcasharm) January 5, 2015
@TVPatrol @ANCALERTS @DZMMTeleRadyo last night in tv patrol i was so upset with the rudeness of kabayan noli de castro to winnie cordero
— heyken (@heykenforever) January 6, 2015
Watch the whole report.


Do you think Noli de Castro was rude?