After retiring from boxing, Floyd Mayweather Jr. has a lot of time on his hands that he hardly knows what to do with. Perhaps it was boredom and maybe conceit also that made him take a photo of his collection of title belts and share it on his Instagram account.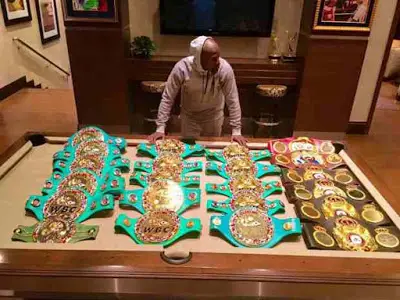 Mayweather lined up all the belts that he won throughout his 19-year professional boxing career. A total of 23 belts in brown, emerald, red, and green colors were shown off by the boxer on a billiard table. The belts symbolize his victory in different levels including WBC Super Welterweight, IBF Welterweight, and WBA (Super) Welterweight.
The retired boxer, who posed with the belts, captioned the photo, "It took 19 years but they'll talk about it forever."
Mayweather announced his retirement last month after his fight with Andre Berto. He remains undefeated in 49 fights.
Inquirer