DZMM's accreditation for the coverage of the politicians filing of certificate of candidacy (CoC) was revoked on Tuesday by the Commission on Election after it breached the rules set for the media. The network's news team violated the terms when they commandeered Senator Ferdinand "BongBong" Marcos Jr., who filed his CoC for vice presidency, and took him inside the Comelec lounge, which was solely intended for Commissioners, for an exclusive interview without a formal permission from the poll body.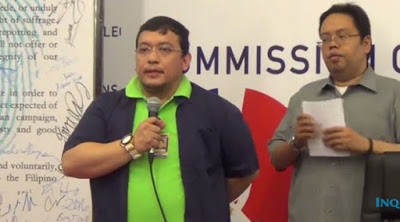 Commissioner Rowena Guanzon revealed to Interaksyon that when she entered the lounge she saw the DZMM team headed by Charisse Para interviewing Senator Marcos. Although the team saw her they continued with the interview.
Due to the incident, Comelec spokesman Atty. James Jimenez held a brief press conference revoking DZMM's accreditation for Tuesday. However, the team can still apply for restoration of their accreditation today (Wednesday).
Para acknowledged that the mistake was his, "This is a personal apology from my heart, I acted on my own just to get a scoop, and I am sorry also to my brethren in media, and I take full responsibility for my action."
 Interaksyon, Inquirer