The Philippine Health Insurance Corporation (PhilHealth) has released a new contribution schedule for its Direct Contributors in accordance to the Universal Health Care Law of 2019 and its implementing rules and regulations.
Direct contributors refer to those who are gainfully employed and bound by an employer-employee relationship. In addition, Kasambahays, self-earning individuals, practicing professionals and Overseas Filipino Workers belong to this membership category as well.
In its PhilHealth Circular No. 2019-0009 published on November 23, 2019, premium rate for Direct Contributors shall still be at 2.75% of their monthly basic salary with an adjusted ceiling of P50,000. In 2020, PhilHealth will increase the rate to 3% and henceforth adjusted to increments of 0.5% every year until it reaches the 5% limit in 2025 as provided for by law. Income floor is fixed at P10,000 during the 5-year period, while salary ceiling will gradually increase by P10,000 each year until it reaches P100,000 in 2025.
For those earning below the salary floor of P10,000, contributions are computed using the minimum threshold; while those who earn the set ceilings/limits shall pay premiums based on the set ceiling. This policy shall also apply to seafarers.
On the other hand, premiums of self-paying members, professional practitioners, and land-based OFWs are computed straight based on their monthly earnings and paid in whole by the member. To ensure accuracy in computation, PhilHealth will require submission of financial records such as latest income tax return received by the Bureau of Internal Revenue, duly-notarized affidavit of income declaration, or overseas employment contract as proof of income. Otherwise, contribution will be based on the highest computed rate.
Pursuant to Republic Act 10631 or the Kasambahay Law, employers shall borne the premiums of their domestic helpers in full, except when monthly salary exceeds P5,000 where Kasambahays shall then be deducted of their equal share in the monthly contribution. In cases of 'employed' Persons with Disability (PWDs) listed in the Department of Health's PWD registry, their contributions shall be equally divided between their employers and the National Government for their personal share.
The new premium schedule takes effect on December 7, 2019 or 15 days after the publication of its Circular 2019-0009. Its application for employed members will be for the applicable month of December 2019 (which is payable on January 2020). Meanwhile, the rest of Direct Contributors may still avail of the existing rate of P2,400/year (or P3,600/year for those earning more than P25,000 per month) for a maximum of three years until December 6, 2019 only. Starting December 7, 2019, the new rate shall apply to all Direct Contributory members using the following schedule: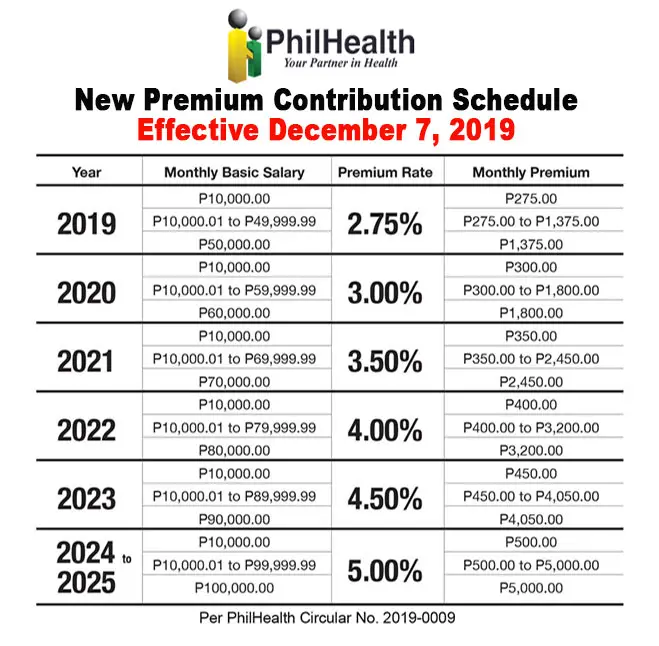 Source: Philhealth