SSS is enhancing its facilities and introducing new programs to further improve its service delivery. One of these service delivery channels is the SSS Website and its various online services.
To access My.SSS, individual or corporate members must register for their own username and password, which shall be issued by the SSS.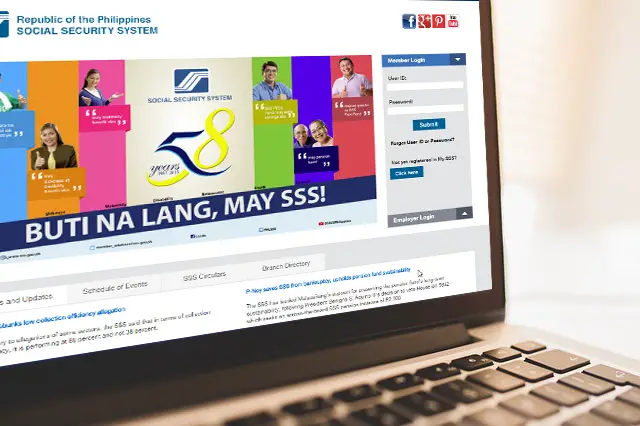 How to Register SSS Account Online
In order to register you'll need the following beside you, your SSS Number, latest SSS payment receipt, Email address and of course your personal info. Now if you have all the requirements, follow these simple steps.
NOTE: To make SSS online registration successful, it is recommended to use Internet Explorer browser while registering or follow this tip if you want use unsupported browsers.

Go to SSS Website (www.sss.gov.ph) 
On the right side of the screen, click the button with the label "Click here" under Not yet registered in My.SSS? (See screenshot) and make sure that you are in Member section not Employer.
Fill out the SSS online member registration form with all the correct details. Make sure that you can open the email address you provide in this form. Enter the verification code below and double check again all the entries before clicking submit.
When you click submit, a small verification window will popup, click "Ok" to confirm.
After clicking OK, a confirmation message will appear like the screenshots below, if you're using Goolge Chrome or other unsupported browsers you will not see the message.
Now, go to the email that you provide and look for "SSS Website Email Validation".
Open the email then click the link inside to proceed the registration. If you encounter a problem while opening the link, you can copy the link and open it using a different browser like Mozilla.
Add the required information in the SSS online member registration form and make sure that you are providing the correct information. You can use the following info if you're Self-employed, Voluntary member, OFW, Househelper, and Non-working spouse:

If mode of payment is OTC or over-the-counter at SSS branch, type the 8-digit following the T# (eg: T#15000052)
If you are paying at the bank, type the 6-digit SBR No. (Special Bank Receipt No.)
If you're paying through SM Bayad Center, Remittance Center or I-Remit, Western Union, type the 6-digit OTC Validation Number
If you're paying SSS by ADA (Auto-debit Arrangement) type 6 zeros (000000) in the SBR No./OTC box
If you have problem finding the Receipt No./OTC in bayad centers receipt, use this instruction.
If Employed, ask your employer for SSS employer ID, select employed then enter the SS Employer ID in the space provided.

Double check everything and don't forget to accept the Terms and Condition by ticking the checkbox beside it then click "Submit" button.
If no errors in your form after you hit the submit button, a confirmation will appear informing you that you have successfully submitted your registration application to SSS for validation. Something like this.
If the registration is successful you will receive a confirmation email from SSS with your Username and Password like the screenshot below.
If you receive your username and password you can now check your SSS monthly contribution, loan balances, employment history, static info and other SSS online services. You can follow this instruction how to view or check SSS contribution online.
NOTE: Recently, users are complaining that they cannot register using 6 Digit OTC validation number from Bayad Centers. If you are experiencing this problem, please make sure that you only entered the last 6 digits, see here how to find the SSS receipt number in Bayad Center receipt.

This article first appear at efrennolasco.com