The second leg of the Philippine presidential debate or "Pilipinas Debates 2016" for the coming elections on May 9, 2016 happened last March 20. 2016 at UP-Cebu Performing Arts Hall. The media partner that cover the debates are TV 5, The Philippine Star, bilangpilipino.com and news5 everywhere.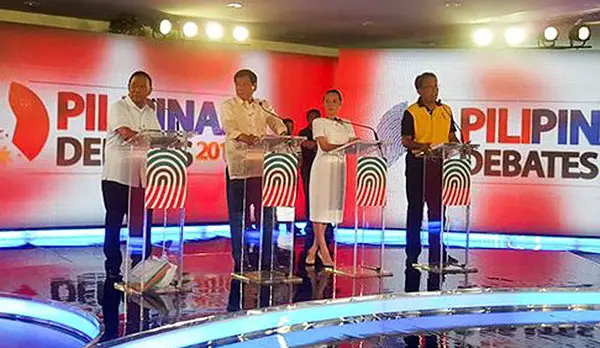 Here is the Full Replay from YouTube courtesy of TV5 and News5 Everywhere.


This presidential debates 2016 second leg which happened last March 20, 2016 is coordinated and organised by the Commission on Elections (COMELEC) and the media partners.
During the debate only 4 presidential candidates will face off, Vice President Jejomar Binay of United Nationalist Alliance (UNA), DILG secretary Manuel Roxas II of Liberal Party (LP); Independent candidate Senator Grace Poe; and Davao Mayor Rodrigo Détente of PDP-Laban.
Senator Miriam Defenson Santiago will not join the debate because the will undergo a clinical trial for her cancer treatment.
"I am very sorry to miss out on the debates, but it would be a disservice to the country if I forego the opportunity to get rid of my cancer completely and strengthen myself further to serve the Filipino people," Santiago said.