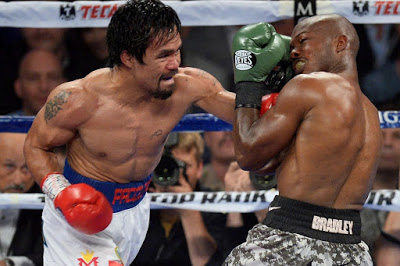 Manny Pacquiao said his third fight against Timothy Bradley for the World Welterweight Championship on April 9 will be the last in his boxing career. Whether it's for real or not, the Filipino Champ gave viewers at the Las Vegas MGM Grand Garden Arena and those at home, a satisfying 12-round fight in which he won! All three judges gave a unanimous decision (116-110).
But earlier on in the fight, viewers already had an inkling of who the winner's going to be because Bradley was knocked off his feet twice! The first knock down happened in the seventh round and the second one transpired during the ninth round. But Bradley did not make it easy for Pacquiao either. He gave a strong punch during the eighth round that had the Filipino champ looking like he had to get his bearings.
Those who bet on Pacquiao probably had some hesitant moments during the first few rounds as the boxer showed like his shoulder was bothering him a bit. If you'll remember, Pacquiao had a shoulder surgery after his fight with Floyd Mayweather last year.
Even if this really is Manny Pacquiao's last fight in the ring no one can match the pride and honor that he's brought to his country not just with this latest fight but throughout his boxing career that spanned a decade.
Congratulations Manny and to all the Filipino people!


SBNation, Bloodyelbow