Because of the ramping amount of cars we have in our country today, having all of those go in one single moment can cause not only traffic, but congestions and accidents as well. In the Metro, we have few simple ways of controlling the volume of cars that go on roads everyday but in this article, we are going to share the most common way of controlling that volume and that is the number coding. Yes, we are going to give you the window hours of cities in Metro Manila that you should take note of in order for you to be aware and not pay penalty fees for it.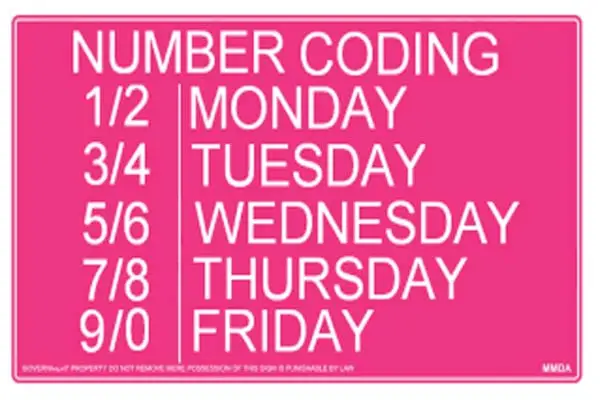 Just to be clear, there is a penalty if you drive during your number coding day. If your plate number ends on a specific number, you are not allowed to let the car out during the day when it is observed. The number coding is as follows:
1 and 2 – Monday 
3 and 4 – Tuesday
5 and 6 – Wednesday
7 and 8 – Thursday
9 and 0 – Friday
The number coding is suspended on the weekends. During special and national holidays, suspension of the number coding is also strictly observed. Take note that the number coding might be stretched before or after the date of the holidays. The penalty for not abiding to this is Php300. 00 and that, to tell you is the minimum amount – that is to be paid at the redemption center in Makati (Orense Street).
Of course, people would not agree with this without any considerations or thoughts. The Unified Vehicular Volume Reduction Program (UVVRP) or also commonly known as the number coding scheme starts at 7:00pm – 7:00am. We would like to thank metromaniladirections.com for approving these exemptions from Director Virgel De Dios and the Office of the MMDA Chairman Inocentes:
Marikina, Muntinlupa, and Taguig contains no number coding so drivers and other people can be carefree in driving around without the fear of getting stopped by authorities. But it is strictly enforced in National Roads like East Service Road, Manuel L. Quezon, C5, etc.
The whole of Pasig City has window hours of 9:00am – 4:00pm.
Makati and Las Pinas do not have window hours so that is the normal 7:00pm – 7:00am.
Pasay City has number coding except on the following roads: Ninoy Aquino Avenue, MIA Road, Domestic Road, Portions of Airport Road, Sales Road, Tramo and some parts of Buendia.
EDSA, C5, Pres. Diosdado Macapagal Avenue, Roxas Blvd (Pasay), all other National, City, and Municipal Roads have window hours regardless of the city (meaning one can drive via EDSA in Makati any day).
For the rest of Metro Manila (Caloocan, Mandaluyong, Manila, Malabon, Navotas, parts of Pasay, Pateros, Quezon City, San Juan, and Valenzuela) number coding is in effect (window hours of 10am-3pm is also observed).
The city of Parañaque implements the Number Coding Scheme, including the window hours (10:00am – 3:00pm), in the following roads:
San Antonio Avenue, Pres. Aguinaldo St., Dominique Savio St., Japan St., Michael Rua St., and -France St. in Barangay Don Bosco.
East Service Road from Dr. Santos Avenue up to FTI Parañaque area.
West Service Road from Dr. Santos Avenue up to Merville Park Subdivision Parañaque area.
Here are the updates of the window hours of the main cities in our country. Note that it changes from time to time so it's best to contact the MMDA metrobase at 882-4151 – 77 local 213 and 255. Now you know the window hours of the number coding scheme, so it is best to follow rules and regulations in order to let yourself out of trouble