Good news for Piso Fare fanatics – the Philippine Airlines are here to offer their Anniversary Seat Sale for 2016 and 2017 on their 76th Anniversary.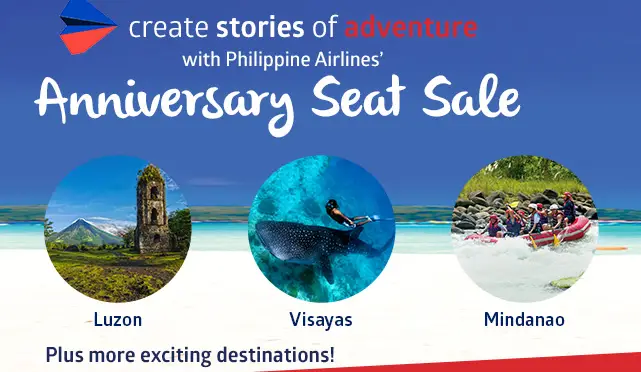 The PAL Promo is open from March 15 and will last up to March 19, 2017.
This Philippine Airlines Seat Sale comprises two-travel periods: the first one is for 2017 and other is for 2018.
The first travel period is from September 10 to November 30, 2017 – yes, the whole month of October is included in the promo.
The next travel period is from January 16 to February 9, 2018.
Heres the list of Domestic Destination that are part of the Seat Sale:
Manila to LEGAZPI at P995
Manila to NAGA at P995
Manila to PUERTO PRINCESA, PALAWAN at P995
Manila to TUGUEGARAO at P995
Manila to BACOLOD at P771 (valid only for flights PR2129/PR2130; PR2137/PR2138; PR1129/PR1130; PR1137/PR1138)
Manila to CEBU at P771 (valid only for flights PR2835/PR1836; PR1868/PR1869; PR1866/PR1867; PR1835/PR2836/PR2868/69; PR2866/PR2867)
Manila to ILOILO at P771 (valid only for flights PR2139/2140; PR2147/2148)
Manila to BACOLOD at P995
Manila to CEBU at P995
Manila to ILOILO at P995
Manila to DUMAGUETE at P995
Manila to KALIBO at P995
Manila to ROXAS at P995
Manila to TACLOBAN at P995
Manila to TAGBILARAN, BOHOL at P995
Manila to DAVAO at P1,219 (valid only for flights PR1808/1809; PR1824/1825; PR2808/2809; PR2824/PR2825)
Manila to BUTUAN at P1,443
Manila to CAGAYAN DE ORO at P1,443
Manila to COTABATO at P1,443
Manila to DAVAO at P1,443
Manila to DIPOLOG DE ORO at P1,443
Manila to GENERAL SANTOS at P1,443
Manila to OZAMIS at P1,443
Manila to ZAMBOANGA at P1,443
Clark to CORON (Busuanga, Palawan) at P1,258
Clark to PUERTO PRINCESA at P810
Clark to CEBU at P810
Clark to CATICLAN (BORACAY) at P1,258
Clark to DAVAO at P1,258
Cebu to BACOLOD, ILOILO, KALIBO, TACLOBAN at P586
Cebu to CATICLAN (BORACAY) at P1,010
Cebu to BUTUAN, CDO, DAVAO, GENERAL SANTOS at P810
General Santos to ILOILO at P810
Rates are given for only one way, which is an ALL IN FARE. Passengers will not be required to pay for additional taxes, terminal fees, service charges, and other fees. Round trip tickets are also offered via this promo.
Interested passengers are required to booked online thru www.philippineairlines.com. On the other hand, for booking and reservations, they may also visit any nearest PAL Ticketing Office.
Every passenger who wil avail the promo will be given free 7 kilos hand carry baggage allowance and another 10 kilos free for check-in baggage.
So what are you waiting for? Avail the latest promo from PAL and book ASAP because the available seats are limited.