Previously, we discussed the topic on how we can identify fake news on Facebook. We hope we helped a ton of people because it certainly is wrong when you share erroneous information. This week, President Rodrigo Duterte signed into law the bill which are imposing penalties on people guilty of spreading fake news that might affect public order.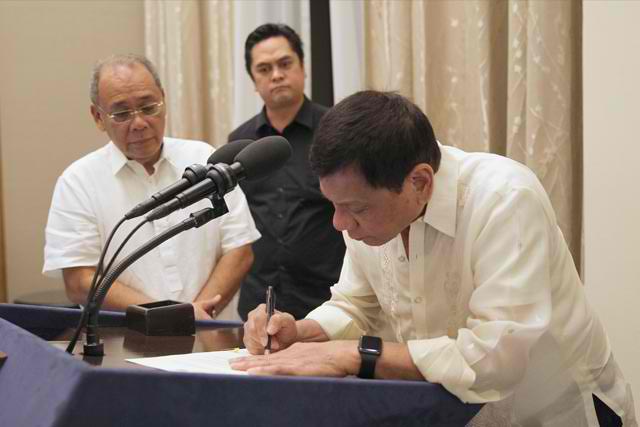 Image: PhilStar
Republic Act 10951 states that if a person is found guilty of delivering incorrect or fake news, then that person would be subject to the law and will face repercussions and consequences. Furthermore, President Duterte signed the law that amended the 87-year-old Revised Penal Code and also placed penalties on unlawful use of publication and unlawful utterances.
"Article 154, Section 18 of the act provides a penalty of arresto mayor and fine ranging from P40,000 to P200,000;" – Philstar
Having said that, the punishment would be applied to a person if that person shares by means of printing, lithiography; or other means and sources of publication that might endanger public order.
In addition, it also covers any person who shall maliciously publish, or cause to be published any official resolution or document without proper authority or before they have been published officially.


The measure will be effective 15 days after its publication in at least two major newspapers. Thus, it shall be applicable to pending cases before the courts where trial has started.
This law will also serve past cases of these "to the extent that it is favorable to the accused or person serving sentence by final judgement."


On another side, a public officer who will be proven guilty of revealing secrets of privacy shall be subject to the penalties of arresto mayor and a fine not exceeding P200,000. This is from Act 230.
Currently, fake news is everywhere. We cannot deny the fact that spreading something unusual or unbelievable catches the eyes and ears of people. Although people who start these "unlawful trends" already know that it might cause possible danger, they still do it for the sake of being known or popular in the eyes of many. With this new law that our dear President signed, justice will now be served.
So for all of us, we better think and make sure before we share. We might not know what possible danger lies ahead of us when we spread news.
Source: PhilStar