June 12, 2018, marks the 120th Anniversary of Philippine Independence and was celebrated by President Rodrigo Duterte's first Independence Day speech since becoming the president, and was met with protest by members of the Bagong Alyansang Makabayan (BAYAN). The President remained composed and said that he understood the protesters' dissent.
The President had just started with his speech as members of the group BAYAN shouted "Duterte Traydor (traitor)," Duterte patalsikin (oust Duterte)," and continued "Hunyo-a-dose, huwad na kalayaan! (June 12, Fake Independence)."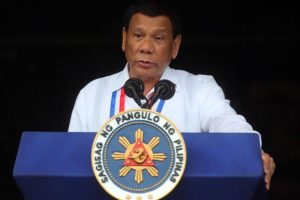 President Duterte remained calm and continued with his speech as police escorted the hecklers out of the venue while members of the President's entourage scrambled to contain the situation.
Supporters of President Duterte cheered as he waved and said, "our constitution guarantees freedom of the press, freedom of assembly, and free expression." Despite the things he has done, he was still faced with these types of concerns.
Read: President Duterte to increase SSS monthly pension by Php 2000?
The President the advised the authorities to handle the situation peacefully and handle the protesters with maximum tolerance.
He continued, "we cannot agree at all times for all seasons."
We may not understand each other but at least there is a common denominator between us, and that is love of country. Nobody can ever question ang pagmamahal ko sa bayan (my love for our country). If we don't have discipline and people continue to ignore the laws and the rules by which we live, we will have a hard time."
He said that he loves every Filipino even those who protested against him.
The President then talked about discipline and even invited everyone, including those who protested to visit Davao City, where he sat as mayor for more than 20 years. He praised Davao City's prosperity and peace and order situation and said that these were the product of his leadership.
The left-leaning group had been openly critical of the President's policies like the war on drugs and Philippines' continued engagement with Washington.
Even with the President's order of reviving the peace talks between the Philippine government and the National Democratic Front, BAYAN still held a protest against President Duterte.
Only 1 of approximately 10 protesters was arrested and will be charged with public disturbance according to Senior Supt. William Segun, Cavite Police.
Read:Duterte Administration to Study the Increase of Nurse's Salary and Benefits
The President went on to defend his war on drugs and maintains that it was his sworn duty to protect the Filipino family, especially the youth of the land.
 I just want the Filipino during my time, to have a comfortable life. I am not expecting economic miracles, impossible. I will be humble enough to say that I can only do so much. Sana maawa ang Diyos sa atin (I hope that God will have mercy on us). If it succeeds, my only problem will be the rebellion in Mindanao," he said.