Taytay, Rizal is dubbed as the "Garment Capital of the Philippines." From that, it only explains that a person can look forward to getting good-quality clothes and fashionable apparel with impressive materials at an extremely reasonable cost. We can visit bazaars in different places especially during the holiday season, however, Taytay Tiangge, is said to be the best.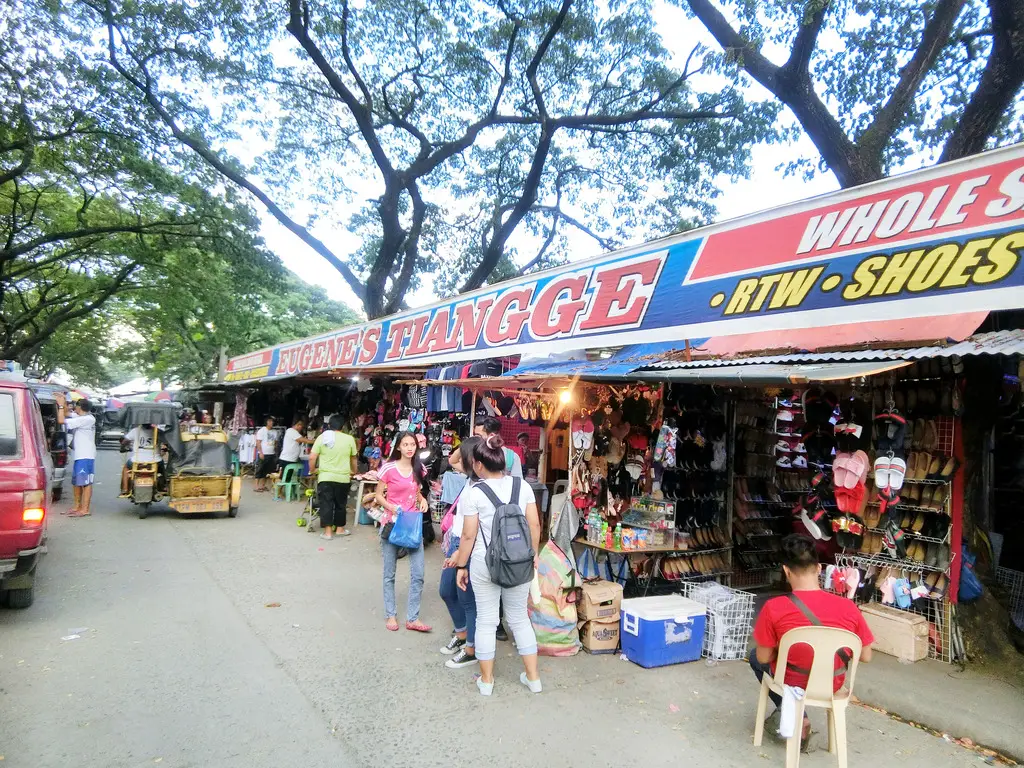 Who doesn't want to get a price that is almost half of those that can be seen in other tiangges or bazaars? For example, those that are sold in Greenhills Shopping Center. Their clothes are twice or even thrice the amount of the ones you can purchase in Taytay. Some of the sellers there get their supplies from Taytay. In addition, even in Divisoria and Baclaran, sellers from there buy or purchase their items from Taytay. So, why go far especially those who are residing in Rizal, Cainta, Marikina, or in the Pasig area.
Read: Businesses you can start under Php10, 000
Divisoria, on the other hand, are jam-packed especially during the Holiday Season. However, compared to Greenhills, Divisoria or Baclaran, it seems like these two have a lot of things you could choose from – not just clothes, they also have shoes, bags, accessories; make up, toys, even school supplies. In Taytay Tiangge, they merely offer clothes and apparels. However, if you are really looking for clothes, then why not choose Taytay Tiangge?
Here are the schedules in Taytay Tiangge:
Daytime:
Monday – Sunday – 8:00AM to 6:00PM
Night Market:
Monday to Tuesday

Start: Monday, 5:00 PM
End: Tuesday, 12:00 NN

Thursday to Friday

Star: Thursday, 5:00 PM
End: Friday, 12:00 NN
How can I go to Taytay Tiangge?
The actual address of the tiangge is at Manila East Road, Don Hilario Ave., Brgy. San Juan, Taytay, Rizal.
What landmarks can be seen to easily identify or distinguish the Taytay tiangge?
Around the vicinity of Taytay Mcdo (New Market/Bagong Palengke)
Behind Mang Inasal Taytay (Uptown)
Beside Club Manila East, Taytay
Generally, you would have to see these markers to determine that you're already in the area. It's easy to find because it's literally a 3-5-minute walk from these markers.
Read: How to Start a Small Business in the Philippines
For commuters coming from Marikina, San Mateo, Quezon City, and Montalban areas, it's better to ride a jeepney to Taytay in front of Sta. Lucia East Grand Mall along Marcos Highway in Cainta, Rizal. From there, you need to get down at Club Manila East or Taytay Palengke.
If from Mandaluyong or Pasig area, you may take G-Liner Bus or RRCG bus. Alternatively, you can also ride the jeep that would pass the locations we mentioned or a UV Express van that would pass Taytay, Rizal. Ask the conductor to bring you down exactly at the tiangge.
Guidelines before going to Taytay Tiangge:
Have your list ready so it wouldn't be difficult for you to find what you're looking for. It's actually hard to do it or to be spontaneous while you're there, doing the shopping. There're a lot of clothes or garments offered inside the Tiangges and you might just forget what you really need to buy.
Bring your own eco bag or shopping bag. It should be big enough, so you can put everything there.
Remember to bring a drink for refreshment, water is the best. You might need to spare at least 2-3 hours inside Taytay Tiangge especially if it's your first time to shop there.
Take extra care of your belongings as well as your gadgets. Snatchers and thieves come like the wind inside the area. If possible, use a sling bag and have it near you all the time.
Avoid wearing jewelry and other fancy accessories.
Wear something comfortable. There are hundreds, if not, thousands of people inside the tiangges so you might feel uncomfortable.
Always check your change when you purchase.
You can bring a small calculator or a low-end phone
Bring enough CASH for shopping and smaller bills.
The price tag isn't that important if you shop at Taytay Tiangge. You can always ask the salesperson for assistance. Furthermore, ask if it's the wholesale or retail price. They do not set prices the way other Tiangge in Divisoria/Baclaran/Greenhills does.
To give you a comparison…
A blouse from Greenhills priced at Php150, Taytay Tiangge sellers offer it for around Php60. Most tops are less than Php100 each. Pants, jogging pants, and dresses are more or less than Php200. You may also find different leggings, jeggings, midi skirts, dress, crop tops, kids garments, kimonos, swimsuits. You can also find overruns, bedsheets, and towels – literally anything you need that are cloths.
In addition, they also sell several overrun garments. Technically just the same items sold in bazaars like Eastwood, Greenhills, Other tiangge, even malls) for just a smaller and more affordable price.
Unlike Divisoria which can offer wholesale purchases of at least 6 or 12 pcs, in Taytay Tiangge, wholesale starts at 3 pcs only and you'll have less Php5-Php15 or more depending on how you negotiate. The tiangge is actually composed of many different tiangges. It's like they've conspired to bring the best of what their city can offer.
It won't be known and dubbed as the Garment Capital of the Philippines for nothing. You can find literally everything you need to find there. Even if you're picky in terms of clothing, a wide range of choices are available.
Read Also: 21 Home-based Business that Filipinos can do