A SIM card gets blocked? Yes, it does! It's actually due to a variety of reasons but we will teach you how to unblock your Smart SIM card. As we all know, prepaid subscribers can't have unlimited data anymore; that the Unlisurf promo of Smart is no longer offered and will be subject to SIM card blocking.
Why does a blocking happen?
Based on the Fair Usage Policy Implementation, the recommended data usage is 800MB of data per day. Yes, even if you have a promo. This is why a lot of subscribers find ways like through VPN, the registration tricks, and loopholes, through proxies, and a lot more creative ways on how to exceed the usage.
Even if subscribers are able to bypass the limit, Smart is wise enough to know and distinguish which numbers are using too much data so this is where the blocking comes in. Your SIM card can still be blocked even if you just use it as a source to power up another device or by being a mobile hotspot.
Read: SMART's SOS Load or Utang Load Smart
How will I know if my SIM card is blocked?
Most people just see this as just a natural error but it's better to be prepared, right? The best and the easiest way to know that your SIM card is already blocked is when you're not able to connect to mobile data. You can still use your prepaid account for calling and texting but not for mobile data. This is when how to unblock a Smart SIM card comes in handy.
To add to that, the methods we'll be discussing here is not only for a prepaid mobile SIM card. It can also be used for a Smart Bro, and KickStart LTE SIM card.
How can I unblock my Smart SIM card?
On how to unblock your Smart SIM card, you actually have two (2) ways. You can either: Call the customer service hotline and address your concern there or send an online ticket to their back-office team.
Unblock using their call center
You can contact their call center by dialing *888 using your Smart SIM card that cannot connect to the internet. You'll speak to a customer service representative and that's the person who'll help you.
Educate them on your concern that you're unable to see a network on your phone when your mobile data is on. Tell them that you have a subscription and that you haven't consumed all of your data yet and that your promo is not yet expired.
They'll ask you to provide more information like the location, the phone model, the name, and all other information. You just have to provide all the information they'll require and they'll create the ticket on your current situation. The turnaround time would be within 24-48 hours and they'll be directly contacting the number or SIM card in question.
You'll be given a ticket number which is the reference that you've made the request. You can use this for follow-ups or to check the status of your concern.
How to unblock Smart SIM card through an online ticket
Another thing you might want to consider doing is by sending an online ticket to Smart's back-office team. The process is technically the same, you need to provide sufficient information in order for you to successfully send the ticket. Information like your name, your email address, the concern, and the mobile number.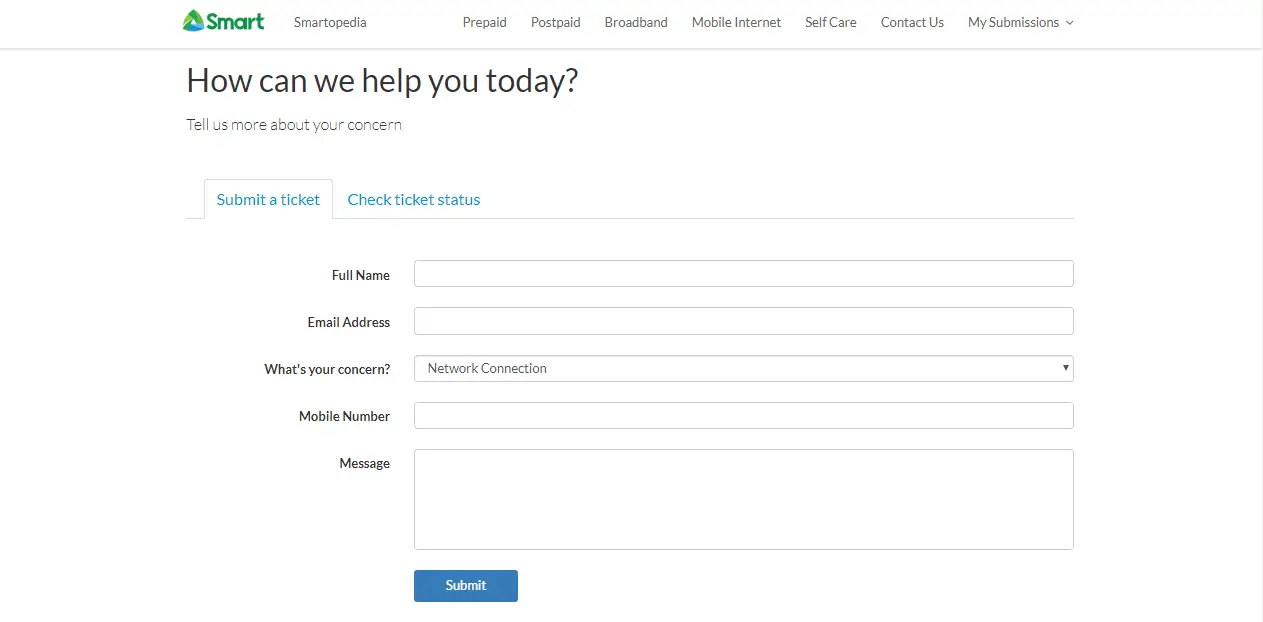 Through this method, the concern you have to select should be "Network Connection," since your problem is that you're unable to connect to data even if you can use 2G or 3G services (texting and calling). You can also add comments that you still have a promo, that you haven't exhausted your data plan yet, and all the information you think of is relevant.
The website for the ticket is https://help.smart.com.ph/helpticket/mysmart. Just access that and it'll immediately redirect you to the ticket-sending. You'll be given a ticket number and the turnaround time is the same (24-48 hours). On the same website, you'll see that you can also check the ticket status. You just need the ticket number and the email address you used.
Read: How to Pasaload in Smart or Talk N Text
Are there instances when it cannot be unblocked?
Unfortunately, yes. I recently had my SIM card blocked because I use VPN and when I called, the representative told me that it cannot be reversed anymore. They were unable to provide me with concrete reasons but based on experience, I found out these three (3) things:
It could be because of my usage; I always exceed 2GB whenever I am connected to VPN and proxies;
Another thing that might be causing this (because I always get blocked) is that of too much bandwidth. I stream a lot of videos and do a lot of gaming; and
Lastly, they might have seen my usage pattern and saw that I am using VPN services which are actually not common knowledge.
So, be prepared for these instances. Besides, it's better if you just buy another SIM card, right? Just make sure to take note of how much you're using and what you're using it for. Hopefully, you learned a thing or two on how to unblock a Smart SIM card in this tutorial.
Read Also: Smart Internet Promo: Smart Bro SurfMax Plus 100 – Unli FB, Messenger, Instagram, Viber, etc.