Smart offers consumable data promos limited to Smart Bro Prepaid LTE Home Wifi subscribers. This is known as the Smart Home Boost Promos. It's something that gives bulk gigabytes of mobile data to Smart users and subscribers. Yes, it is a Wi-Fi source but it uses data so the speed and the availability will depend on your location; whether you're at a location where Smart reception is good or the other way around.
Read: PLDT Ultera – PLDT Plan 699, 1299, or 1699
When you register to Smart Home Boost Promo, you will experience fast internet speeds of up to 42Mbps. This is possible because Smart has a nationwide LTE network coverage. Moreover, their internet speeds have been proven because a lot of feedback regarding their service points to a positive note.
Interested in getting Smart Bro? Click here to access the Smart website.
This Smart Prepaid Home WiFi is also ideal to those who do not want to settle for fixed monthly internet plan bills and the right offer to those who want more data allocation.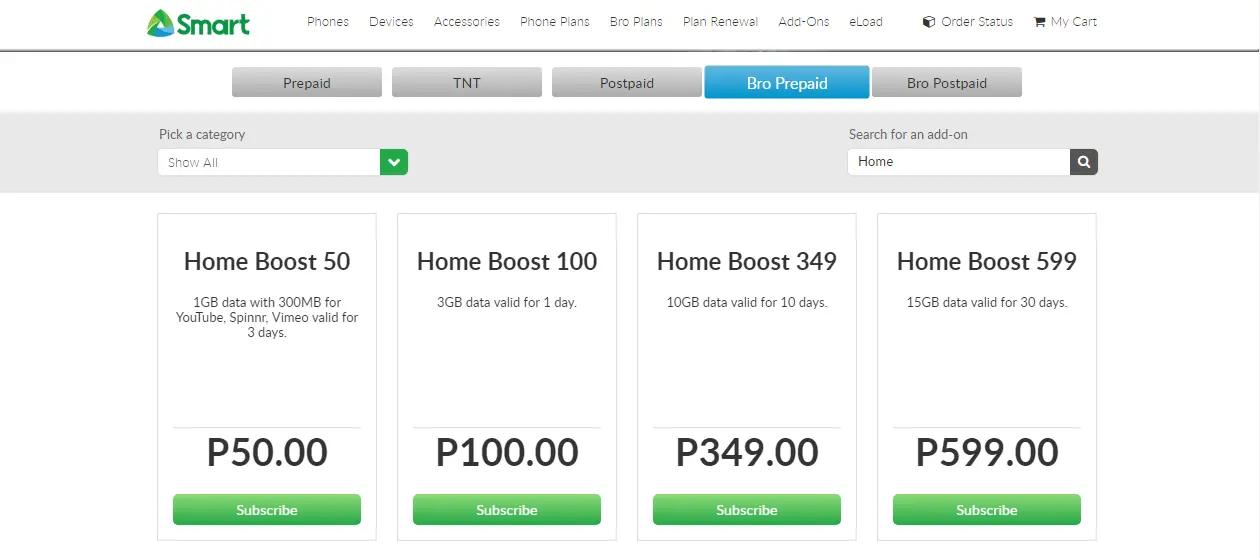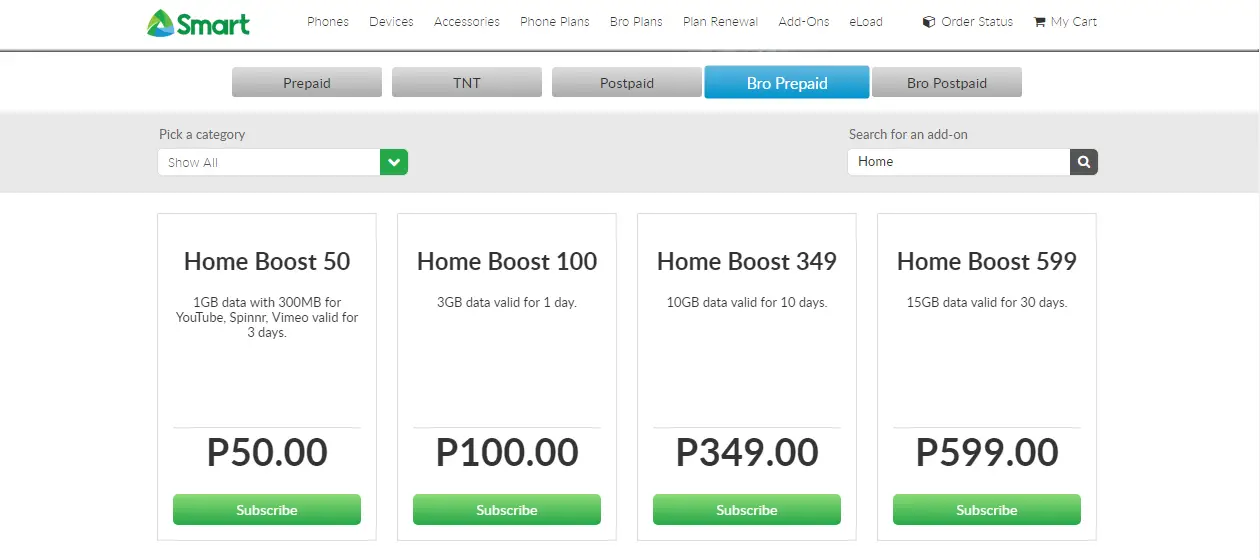 All Home Boost Promos are stackable, meaning you can register to a Home Boost Promo while you're registered for another. For example, if you're currently registered to a data plan, you can register for another if you think what you registered for won't be enough. Data allocations will be added together and the validity of the promo with the longest validity will apply.
When you avail the promo, you will have the chance to get the following freebies:
Web surfing
You can listen to your favorite music, podcasts, and playlists
A chance to watch videos on YouTube or movies on Netflix
You can play Mobile Legends, ROS, AoV
Stay connected through social media like Facebook, Twitter, or Instagram
Read: Sun Postpaid Plan: Sun Fixed Load Plan 300
How much are the packages for Smart Home Boost promos?
The Smart Home Boost Promos can have five (5) denominations. What we meant by that is that you can reload your Smartbro Prepaid Home WiFi account through your SIM number which can be found at the back of the modem at the following prices:
Php15
Php50
Php100
Php349
Php599
How do I register to Smart Home Boost Promos?
You can register Smart Home Boost Promos through Smart Dashboard.
To access it, open your internet browser (Chrome or Firefox).
Go to smartbrosettings.net or access it through the IP address: 192.168.1.1
Go to SMS option.
Create a text message with your chosen Home Boost Promo.

Sample text: BOOST50 send to 9999 or 2200

Wait for the successful confirmation message before browsing to avoid unwanted data charges.
To check your remaining data allocation:

Go to Smart Dashboard (the process above) > Usage Monitoring.
In order for you to know your remaining prepaid load balance, just text BRO BAL to 2200 or register an account to my.smart.com.ph and go to Balance section. Once you fully use all the data, you can still continue surfing by availing other Smart Bro Promos prepaid internet offers. Remember, promos stack; you can anticipate the expiry of a certain promo and register for another one right away.
Read: Globe's GoSURF Promo – Up to 8GB of data good for 30 days
List of Smart Home Boost Promos
HOME BOOST 15
To register, text BOOST15 to 9999/2200
Price of the promo: Load amount you need is only 15 Pesos
Promo is valid for 1 day (24 h0urs)
To avail the promo of 1GB data, it must be loaded with Giga Surf 50 or Surf Max Plus of Smart Bro or Home Boost 50 and above, with at least 250MB data left
HOME BOOST 50
To register, text the keyword BOOST50 to 9999/2200
The amount you need to avail this promo is 50 Pesos only
Promo is valid for 3 days
This promo will give you 1GB data + 300MB for YouTube, Spinner, Vimeo, Dailymotion, Dubsmash, Pokémon Go +UNLISMS to all network
HOME BOOST 100
To register, text BOOST100 to 9999/2200
Promo price: 100 Pesos only
Promo is valid for 1 day
Registering to this promo will give you 3GB of data you can use for a day.
HOME BOOST 349
To register, text the keyword BOOST349 to 9999/2200
You would need only 349 Pesos to register to this promo
The validity of the promo is 10 days
Need at least 10GBs of data that you would need in 10 days? Register to this promo so you can get 10GBs of data.
HOME BOOST 599
To register, text BOOST599 to 9999/2200
Load you need is 599 Pesos to register
Promo is valid for 30 days or 1 month
Registering to this promo gives you 15GB data
Need help in finding these add-ons? Click on this link here.
NOTE: Smart has a Fair Use Policy for Prepaid users. For bulk data, a data capping of 1.5GB/day while 800MB/day for unlimited surf. If in case, you exceeded the capping you might experience SIM blocking or slowing of internet connection. This is why all Smart subscribers should limit their data consumption to 800MB/s per day.
Read: SMART's SOS Load or Utang Load Smart
Need more information or help on your Smart home boost promo? You can call *888 on your phone to contact the Smart customer service hotline. Otherwise, you can refer to their help page for the directory to specify the department you are going to contact.
Now that you're aware of Smart Home Boost promos, what are you waiting for? Do you want a flexible internet connection for you and your family? Register to Smart Home Boost promos now and enjoy big bulks of data!