In our last update, the newest typhoon to hit our country, Typhoon Paeng (international name Trami), is said to move west-northwest and was expected to hit rainfall on Friday, September 28th, 2018. However, few regions in Luzon already felt rainfall last night. Although this is the case, according to weather reports, the typhoon is slowing down in its movements, a rough 10 km/hour decrease from its previous rage.
However, the Philippine Atmospheric Geophysical Astronomical Services Administration (PAGASA), tagged typhoon Paeng to have mild rain showers.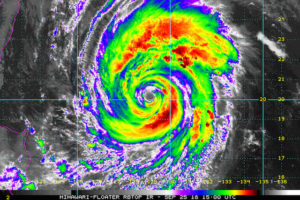 A bulletin announced at 11 P.M. on Tuesday, the PAGASA said that Paeng, as of that time, has maximum winds of 190km/hour from the previous 200 km/hour. The gustiness, on the other hand, also lessened to 235 km/hour from its previous standing of 245 km/hour.
As of the moment, the typhoon is sitting at about 725 kilometers east of Basco, Batanes and is slowly moving north-northeast, changing course, moving away from land in our country. As of the latest update, PAGASA still did not tag typhoon Paeng as a tropical cyclone and most likely, the administration won't send out warnings to some parts of the country due to the fact that it is veering away from our area of responsibility.
Hopefully, typhoon Paeng leaves our area for good in order for our country to recover from the damages typhoon Ompong left us. However, the issue of light to moderate rain showers would still continue to fall on Friday, September 28, 2018. People should be prepared especially those who would be out and about for work, school, and other things.
Would traveling by sea be safe at this point?
PAGASA warned us, however, that traveling by sea might not be safe even if the typhoon is steering away from where we are especially in the northern and eastern seas of Luzon and eastern parts of Visayas.
Gale warnings were given at around 5:00 P.M. this Tuesday for the following areas:
Aurora
The Babuyan Group of Islands
Batanes
Camarines Norte & Camarines Sur
Catanduanes
The northern coast of Ilocos Norte
Calayan
Northern and Eastern Samar
The northern coast of Cagayan Isabela; and
The eastern coasts of Cagayan, Sorsogon, and Quezon including Polillo Island
PAGASA advised fishermen and those working in seas to be cautious and to anticipate heavy rainfall and gusts throughout the areas where the gale warning is. According to PAGASA and their forecasts, typhoon Paeng is to finally leave our country on the 29th of September, 2018 which is on Saturday.