Cebu Pacific Air will be undergoing upgrades on the booking system for a better and a more convenient experience for customers. This Cebu Pacific system update will occur on the 9th of October this year until the 10th; it will only be for one (1) whole day.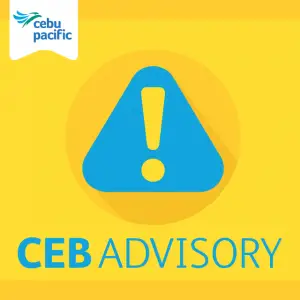 In their advisory, Cebu Pacific said that during this update, customers won't be able to manage or book flights from 7:00 P.M. on the 9th of October until the 10th of October, 7:00 A.M.
Read: 500 million passengers celebrated by AirAsia with Php1-seat promo
What if I call during these hours? Would I be able to manage or book flights?
Unfortunately, no. During the Cebu Pacific system update, you really can't do anything when it comes to booking or managing flights. Even if you access it through their website, through the mobile application, and even authorized sales agents; it's a worldwide occurrence and will be down for a full twelve (12) hours.
In addition to that, online check-in will also be temporarily unavailable for the time being. So, in order for passengers to be able to check their baggage in, they need to manually do it in the airport.
https://www.facebook.com/cebupacificairphilippines/posts/2093371004042497
So, the company advised passengers to check-in their baggage in advance for them to not experience the hassle. More so, they advised passengers to be at the airport three (3) hours before their flight for pre-departure processes and procedures.
Read: P1 AirAsia Seat Sale Starting Next Week
According to the airlines, passengers who are unable to cancel their itinerary or rebook their flights may choose to go and apply for a travel fund without penalty or to rebook their flights within seven (7) days, of course, without penalty.
As per the airlines, they're currently undergoing this kind of maintenance or update to provide better and more convenient ways of doing online transactions via the Cebu Pacific portal.
We sincerely hope for our guests' understanding, as we work on improving our system to serve you better," the airline said.
Now that you're aware about the Cebu Pacific system update, you can plan ahead and manage your flights before 7:00 P.M. this evening and manage your booking hassle-free.