After how many months of excitement, the slowly rising UltraLotto 6/58 lotto jackpot was already won by two people in last night's draw. To give you a brief refresher, the hype started when the UltraLoto 6/58 was rising from P400 million to P500 million. After a week or two, the grand prize has risen to a glittering P1 billion pesos. Hopefuls in winning the P1 billion lotto jackpot, unfortunately, should slowly transition to them looking forward to new draws because two (2) people apparently won the grand prize.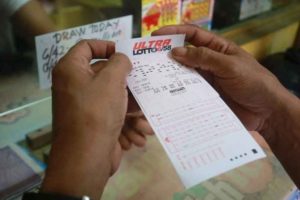 The winning combination of this P1 billion peso lotto jackpot was 40-50-37-25-01-45.
Read: What to Do if You Win the 1 Billion Lotto Jackpot?
Like before, this can be won or bet on in any order. As long as you have these six (6) numbers in your arsenal, you win the P1 billion peso lotto jackpot. In history, this UltraLotto 6/58 jackpot is the biggest among all jackpots; the next one was around P700 million.
Although that's the case, winnings over P10, 000.00 are subject to the TRAIN law which will automatically deduct 20 percent from the total winnings. So, if two (2) people will split the total jackpot, it would be somewhere around P470 million after taxes.
Read: P53 Million Grand Lotto Jackpot Won by a Single Person
The winning combination on the Super Lotto 6/49 jackpot, however, was not won. The Super Lotto grand prize is just around P15 million and could still go up if no one claims to win the jackpot. The winning combination on the Super Lotto 6/49, however, is 34-06-11-49-03-45.
Yes, most people feel disappointed with the fact that they were not able to grasp the P1 billion peso lotto jackpot, even the consolation prizes. However, this can reoccur especially when millions of people are wanting to get back to that amount.
Read: How Much Would the Tax of the P700-Million UltraLotto Winner be?
Now, people would want to bet more and more in order for them to narrow their chances down in winning lotto jackpots.
Do you want to have a chance of winning the grand prize when it comes close to this amount? Do you still have hope that in your lifetime, you will be able to win such a prize? Stay tuned and we'll tell you everything about it when it comes again.