Some people think that being disabled already disqualifies you of being able to work appropriately. Although it's difficult and kind of harsh to think of it that way, disabilities are difficult to be used to and is kind of hard to overcome.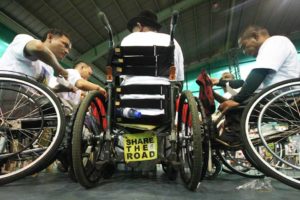 However, we shouldn't think of disabled people like this because disabilities shouldn't kill a person's way of living. This is exactly what the Department of Labor and Employment (DOLE) wants because they issued more than 1,000 jobs for PWD (Persons with disabilities) in a job fair on Wednesday Dec. 5, 2018. The job fair will be held in Quezon City.
Read: Premium Point-to-Point Bus Service in the Metro
What are the kind of jobs that will be available for PWDs?
If you're wondering, there will be hundreds of jobs available in many different fields. Currently, there are over hundreds of jobs in the following fields and industries:
Electronics
Advertising,
Business Process Outsourcing (BPO; call centers)
Health and Wellness
Travel
Logistics
Hotel
Sales
Manpower
Security services
Property management
Memorial services
Pharmaceutical
Those were the main highlights of the advise from DOLE but other fields will become available, says the Department. The place of the event will be held in the Quezon City Hall at the covered walk on Wednesday of this week, the 5th of December. They're welcoming people with disabilities to try and get jobs for themselves because they plan on sustaining the efficiency of everyone even if they find it difficult to.
Read: Amazing Laws You'll Wish The Philippines Would Have
Who else would be present in providing the 1,000 jobs for PWDs?
Other than the Department of Lhe Department of Trade and Industry (DTI) and the Technical Education and Skills Development Authority (TESDA) will be hand-in-hand in providing livelihood and skills training during the said event. So, more and more options and opportunities will be opened to PWDs.
Do you know someone who is a PWD? Do you have someone in your circle who is a PWD who needs a job but they're not looking into it because of their disability?
Attend the DOLE job fair event on Wednesday and look at the different options for career opportunities for PWDs!