Almost everyone knows the hassle of commuting especially if you live in Manila. One of the busiest cities in the world is Makati, since it's home to many offices in the metro and oh boy, travelling via public utility vehicles is really tiring most of the time because it's really difficult to catch a ride especially during rush hours.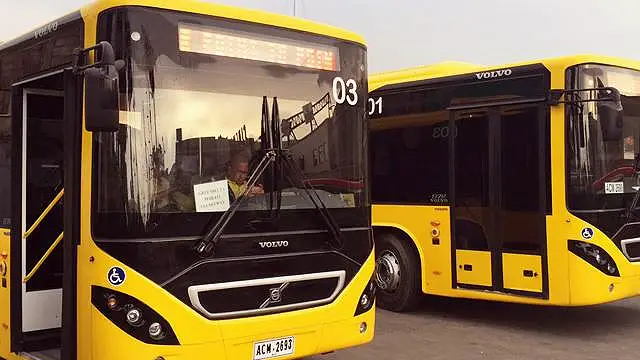 However, because of the new P2P service which was just established a year or two ago, commuters had more options with better comfortability and a more efficient way of traveling. Well good news for commuters, RRCG Transport, a well-known bus company has again made a premium P2P service starting from Cainta, Rizal to Makati City.
What is a P2P service?
A point to point service (P2P) is just like riding a normal bus. However, the difference is that all trips are scheduled and that there are no other stops aside from the destination itself. So, this simply means that the trips are faster, more efficient, and that you won't go scrambling to get a seat because the times are schedules. It would not only save time by not stopping to pick up other passengers on the road easily shaving off about 20 – 30 minutes of time, it's also a good way to travel comfortably.
Read: LTFRB opens 20,000 TNVS Slots
Price of the P2P bus
Since the P2P bus is designed to provide premium service, compared to normal buses though, the price point is a bit higher. However, if you would consider the amount of time it would save you (which is really precious), as well as the hassle of catching a ride during rush hours, it would definitely be worth it.
When did the Rizal to Makati service start?
Generally, the P2P bus service started roughly a year or two ago and it only serviced a couple of cities adjacent to Metro Manila. These cities included Alabang, Muntinlupa, Makati City, Ortigas, etc. Now, they will have routes going to and coming from Cainta, Rizal.
Want to know more about the different routes, prices, tips, and tricks in riding P2P buses? Here is a previous article we have written as regards this topic.
Also read: Premium Point-to-Point Bus Service in the Metro
It started last February 11th, 2019, where trips from Robinson's Cainta to Trasierra in Makati was available at a fare of PHP 90 (Discounts still apply for students, seniors and PWDs and that is the reason why the fare was just PHP 72 for them).
On a daily basis, only four (4) buses will be servicing the route. The earliest you can catch a trip with their buses at the terminal in Cainta would be at 5:30 A.M. while the last leaves at exactly 5:30 in the afternoon. Now from Trasierra, the earliest bus you can catch leaves at 7:30 A.M. with the last one leaving at 8 in the evening.
Here is a photo that the RRCG P2P Bus Service shared on their Facebook page, detailing the specifics of the route that the P2P buses would have from Cainta, Rizal, to Trasierra in Makati.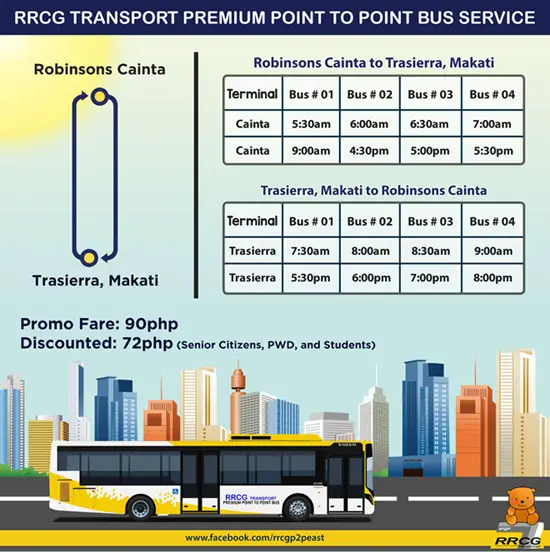 If you are interested in knowing more things that revolve around buses, or if you'd like to know more information about their services, all of these information is available at p2pbus.ph about their premium point to point services and what areas are covered to and from.
They have plenty of trips going to even the busiest parts of the Metro, perhaps you can try and see it for yourself the difference between commuting normally and their premium services.
Read: The New Makati Subway and How it can Change Transportation in Metro Manila
What about other parts of Rizal? When would these be available?
As of the current moment, no news were set out about other parts of Rizal having the service. However, you can stay tuned at their website at https://p2pbus.ph/ if you are interested in knowing whether or not the city, town, or municipality you live in would be serviced by the RRCG P2P service.
Read: Future Projection of Railway Public Transport Around The Metro
What do you think about this service? In the Eastern part of our country, Cainta is connected to Antipolo City, Marcos Highway, Marikina City, and other known cities in Rizal like Taytay and Binangonan. Hopefully, the P2P bus service reaches those parts of the country so more people can experience better and a more premium commute.