The Light Rail Transit (LRT) System and the Metro Rail Transit (MRT) System is one of the few modes of transportation that Filipinos patronize. They will take you to your destination fast and comfortable with air-conditioning units and monitored train movement.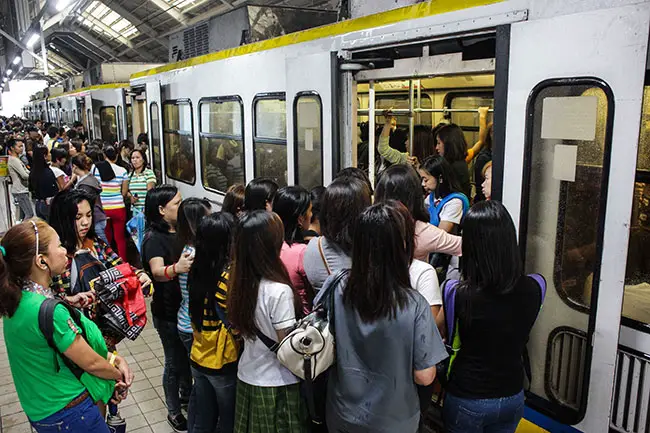 Other than the fact that it's fast, it's also cheap compared to riding taxi cabs or utilizing the nationwide-known Grab Car.
Read: Philippine Railway Network to be up for Expansion for Economic Policy
However, some people think and go against using both the LRT and the MRT for their own personal reasons.
Just recently, the LRT and the MRT banned liquids in their trains following multiple threats of bombing and catastrophic signals. Last Thursday, the 7th of February, 2019, the Metro Rail Transit released the list of liquids and other items that will be allowed inside stations and trains.
In their statement, they made the public understand the situation more and deeper when they implemented their new security policy. They said that following their ban on bottled drinks inside stations, there are a few more updates they need to spread.
As we have stressed earlier, we have banned bottled drinks, water, and any liquid substance as these can be mixed to form a liquid bomb."
The transportation department made an example on how nitroglycerin could be easily hidden in harmless liquid and water bottles.
Nitroglycerin is an example of an explosive liquid that can also be utilized as a component of heart condition drugs and medications.
Nitroglycerin is oily and clear, so if it is poured in an opaque lotion bottle, no one would know what is inside Because it is clear and oily, nitroglycerin would be easy to conceal in lotion or shampoo bottles. Nitroglycerin's inherent instability would make this bottle very dangerous for you to carry around."
The department also said that this is not only for the trains and stations but in every location.
Read: Manila Water Rate Hike Starting October 16, 2018
Senior Superintendent Bernard Banac, the Philippine National Police (PNP) spokesman said that the strict ban of liquids and liquid materials in stations and trains was actually a part of the alert of full status level implemented by the NCRPO or the National Capital Region Police Office. According to him, this is part of the security measures and that they are still currently studying everything that revolves around this idea.
This is all part of our security measures, so we ask the public for understanding and cooperating in order to not be bothered. This is just temporary. we are still talking and studying about it and hopefully, nothing bad will happen in our peace and order… In the coming days, we can expect a statement regarding the security in lrt and mrt."
What are the things that people can bring?
Following the ban of liquid bottles in stations and in trains last 31st of January, NCRPO regional director Guillermo Eleazar downgraded the alert level in the Metro from its original full-alert to just a heightened alert.
Afterwards, the MRT officials clarified that there are some liquids that can be allowed inside train stations even after the implementation of the liquid ban. So what are the things that people can still bring inside stations and trains?
Read: BPI Will Increase Their Bank Fees in 2019 For Withdrawals and Deposits
Breast milk in bottles (only if the passenger is traveling with a small child or a a baby).
Baby formula (only if the passenger is traveling with a small child or a baby).
Liquids including water, liquid nutrition, juice, or gels for passengers or people with life conditions or disabilities;
Drinking water to be used and drank by babies or small children;
Over-the-counter prescriptions and medications (for people with sicknesses or conditions);
Life-support liquids and/or life-sustaining medications like blood products, transplant organs, bone marrow medications, etc.
Frozen liquids or gels that are used to cool disabilities;
Medical-related items used and needed by people with medical conditions and/or disabilities; and
Items and liquids used to augment the body for cosmetics or medical reasons like prosthetic breast/s, bras, saline solutions, shells containing gels for women, and other liquids that are needed by people with medical conditions.
Read: Future Projection of Railway Public Transport Around The Metro
According to superintendent Banac, this is just a temporary thing so people should not worry. However, this should be taken seriously because these things can delay how you travel. Guards and officials in these establishments will be strict in checking whether or not you have the items that are not allowed inside stations and trains.
So, be sure in checking the list of allowed items inside trains and stations. Ensure that you are aware of the ban of liquids in MRT and LRT stations.