In other countries, the roads would usually compose of multiple things like the main road itself where cars and other motor vehicles use, the sidewalks where people and pedestrians utilize, and the bicycle lanes where cyclists are present for them to have a peace of mind that they're not going to be jammed by a vehicle.
According to a research done by the American Public Health Association (APHA), 2012 research data showed that infrastructures with bike-specific features reduces the risk of injury and accidents by merely half percentage. Meaning, having a protected bicycle lane in highways and major roads can drop the risk of injuries by a staggering 90%. Imagine the safety and the peace of mind that this gives bikers and pedestrians.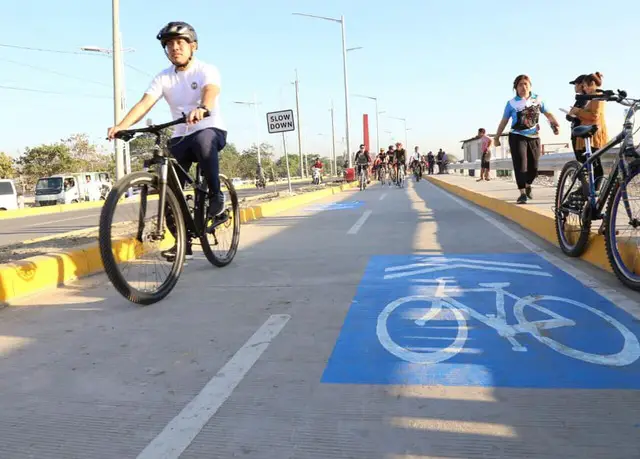 Read: Smaller Lanes are Safer? MMDA Proposes Lanes to be Narrower for Safety Reasons
Here in the Philippines, however, the latter is not present. Other than the fact that the roads of the highways are narrow, the government did not prioritize these lanes due to the fact that bikers are not many. However, in this new project, bikers can now feel the peace of mind they never had while riding their bicycles on national highways in the Philippines. 
The Laguna Lake Highway bicycle lane
This highway will allow bikers to stroll with their bikes freely and carefree. With a bike lane that is protected and installed by the Department of Public Works and Highways (DPWH), bikers can now enjoy. 
Last 7th of February 2019, Mark Villar, DPWH Secretary along with other Taguig City officials, established and made into effect the three (3) meter-wide bicycle lane with a protection strip that's main use is to separate vehicles along the highway from bikers. 
As per the DPWH, this is the first ever protected bicycle lane in the country that has concrete protection. 
The bike lane has a stretch of 5.8 kilometers in this 6.94-kilometer length highway. As per Villar, they also want our bikers and cyclists to feel that the road has sufficient space for them without having the fear of being bumped. 
It is our priority to build safe roads and bridges that will also cater to bikers and pedestrians. hence, the inclusion of protected bike lanes and sidewalks spaces in our new project."
Other features of the protected bicycle lane
In addition to the fact that it's a 3-meter-wide lane, it also has a sidewalk that caters to pedestrians. The sidewalk, measuring about 1.5 meters long, is an elevated part of the road which is made to prevent and to protect against flooding. 
The project is estimated to cost at least P1.28 billion and this budget is extremely for the implementation and the creation of this bicycle lane with, of course, the provision of road safety signs, streetlights, and the lane itself. 
Read: What do Those Number Signs on Roads in the Philippines Mean?
If you are passing through the C6 Dike Road (former name); if you plan on traveling to Bicutan in Taguig City to Taytay, Rizal, or going to Pasig, fret no more because this protected bicycle lane is to accommodate your requests. 
Are there other bike lanes in the Philippines?
Definitely. However, this Laguna Lake Highway bicycle lane is the first ever protected bicycle lane in the country. Although there are bicycle lanes scattered throughout the country, these bicycle lanes are not protected. What that means is that bikers can still get caught and bumped into by vehicles at any given time. 
Read: Road Etiquette and Safety Education to be Included in the K to 12 Curriculum
Other bicycle lanes can be found along the roads of Dona Julia Vargas Avenue in Pasig City, and Senator Benigno Aquino Jr. Avenue or most commonly known as the Diversion Road in Iloilo City. 
Benefits of protected bicycle lanes
A lot of Filipinos choose to ride their bicycles when traveling. Other than the fact that it will cost them cheaper because no gasoline is involved, it's also one good form of exercise and workout. 
Read: Better and Faster Way of Going From Antipolo to the Airport?
So, having these protected bicycle lanes can fully encourage people who use bicycles to just utilize their bicycles when traveling. 
Less traffic
Also, lesser cars and vehicles will be seen on roads. Meaning, the traffic should somehow lessen and decrease given the fact that protected bicycle lanes are now present. 
No to pollution
Since there will be less vehicles emitting carbon and other harmful substances, less air pollution can be expected. Hopefully, this bicycle lane installment projects get scattered out to different parts of the country. 
This is not just for the benefit of the bikers and cyclists; if you look at it at a bigger picture, you will see and know that these lanes are actually good for both the health of an individual and the health of mother nature.