People from the East seldom experience the hassle of Metro Manila traffic. As a matter of fact, they settle to live and work in the area to avoid it. Why? Because based on 2015 Global Satisfaction done by Waze, Metro Manila is known to have the "worst traffic on Earth." This is one reason why people try to avoid it as much as possible. In addition to that, Boston Consulting Group had a study that showed Metro Manila motorists, commuters, and other travelers get stuck in traffic for an average of 66 minutes or an hour and six minutes. Imagine the time burnt by the traffic. Part of this is a reason why a lot of people are looking for alternatives in traveling to and fro the South; one substitute is traveling through the Eastern part of the Metro.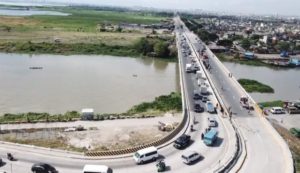 Read: New Landport Bus Terminal That Looks and Feels Like an Airport: The Parañaque Terminal Exchange (PITx)
However, even though you're from the East, there are still places which could be annoying especially in times of need. Ever heard of Marcos Highway? Ortigas Extension? Cainta Junction? Well, if you're from Rizal, Pasig, and Antipolo, you would most definitely hear that all the time. It's on the roofs of everyone's mouths especially when it comes to traveling those roads.
Talk about traffic, the Eastern part of Metro Manila is slowly becoming an alternative to get to major business districts in the country. There are traffic jams here and there but the jams in the East subsides, unlike in CBDs.
Traveling from the East
Currently, there have been a lot of discussions as regards traveling from the East to major cities like Ortigas, Pasig, Makati, Marikina, etc. Often times, travel to these places are a headache to people new to the Eastern part of the Metro but those who are used to traversing the path have grown used to it.
Read: Anti-Profanity Ordinance, Successfully Passed in Baguio
From the East, travel to Makati, for instance would take about an hour to an hour and half depending on the heat of the traffic. So, that being said, you can now imagine traveling from the East to the Southern part of the Metro.
Traveling from the East, Antipolo to the Airport? 
If you're from the East, you know how hassle it is to travel to the airport. Either domestic or international airports. Not only because it's a couple of miles away, but also because no one-ride journey is available. You would have to get off a specific spot, then ride another, and then another, and so on. Unless you'll be going by car, by cab, or by a ride-hailing application, you're in for a comfortable ride.
In addition to the unreasonable transportation systems our country has, traveling from Antipolo to the airport would require you to leave an hour or two earlier than the original time.
Good news, though, as the Department of Public Works and Highways (DPWH) instituted the Laguna Lake Highway last 15th of November. This P1.28 billion highway is going to be toll-free which would link Bicutan, Taguig City, and M.L. Quezon Avenue to the Napindan Birdge II. The Napindan Birdge II connects Pasig, Taytay, Taguig, and Rizal and is expected to cut the travel time to thirty (30) minutes or even less!
Is this a better way from the East going to the South?
Technically, yes. The newly constructed road which is more commonly referred to as C-6 is a good alternative especially for people who live in far-off places. Instead of taking the usual South Luzon Expressway-EDSA regular route, this new four-lane highway would serve as a good alternative for motorists and other vehicles going to the South and to the airport. It's a seven-kilometer long road with a three-meter wide bike lane which is perfect and safe for cyclists who wants out of the pollution coming from major highways and secondary roads.
The road is currently being used by a limited number of people and vehicles but eventually, more and more will be able to know to have access and to use this route. So, what you need to do is to utilize this extension while the road's still unknown to many; take advantage of it while you still.
Read: The Philippines, Planning on Building a Pollution-Free City that cost $14 billion
This new Laguna Lake Highway will cut travel time and will somehow ease the traffic off of major roads by giving an alternative to people coming in and out of the South and to the East including Pasig, Cainta, and Antipolo.
Are you from the East and you're looking for an alternative to travel to the South without passing through the busiest places in the Metro? If yes, then what are you waiting for? Take on the road from Antipolo to the airport and cut your travel time to 30 minutes or less than that!