Students have this tendency of cutting classes to do what they want to do. As a matter of fact, cutting classes is a normal thing for Filipino students especially if the class they're about to go to is not important or if they think that the activities in that class won't affect them in a positive way.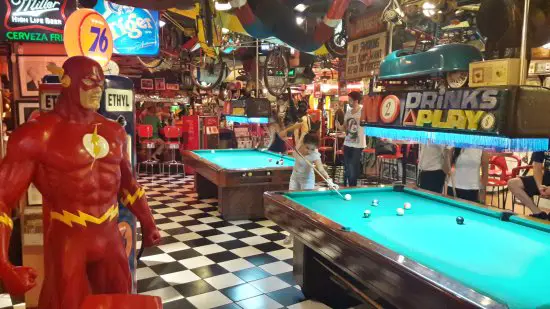 Having that said, the Department of Education (DepEd) is treating these students as a pain in the neck especially when professors and teachers are chasing requirements of their own. In their studies and observations, DepEd was successfully able to narrow down the reasons why students take their chances of cutting classes: computer shops and billiards.
Read: DepEd's "No Homework on Weekends Policy" Being Pushed to Private Schools
Recently, DepEd is looking at computer shops and was trying to devise ways on how to prevent people and students from cutting classes to go and play in computer shops.
In addition to that, they're also looking into a mediocre approach on how to prevent more students from committing absences – by installing billiard tables inside schools. 
This is the resolution that the Department of Education is seeing to prevent students from always being out of the classroom. Since billiards is now considered a regular sport after being a demo sport for a consecutive three (3) years in the Palarong Pambansa 2017, people in Antique are being persuaded to try the sport.
Palarong Pambansa tournament director of Negros Occidental Jofran Nyl Tupas said that DepEd is trying to persuade each department to purchase billiard tables to not only prevent students from cutting classes, but to also gain positive feedback from teachers and other school admin.
We are putting billiards inside the school para 'yung mga manlalaro natin hindi na lalabas. Para 'yung pagte-training natin hindi na lalabas."
Another thing that this resolution can take pride on is the fact that this can be the reason why dropouts can be persuaded and pulled back to school. Tupas said that they don't need to get out of the school, they can consider going back to school to play and practice billiards if they're yearning to play in the Palaro. 
Yung programa ng DepEd na sinali 'yung billiard sa Palarong Pambansa, marami ang bumalik na drop-outs, maraming bumalik na mahilig mag-billiard na bata natin."
Billiards coaches actually love this decision. Take SOCCSKSARGEN coach Ryan Dinero for example.
He said that this decision will not only lure students back in school, it will also denote a positive effect to students and other people that billiards is not a bad sport.
According to Dinero, if before, schools and DepEd find it very difficult to pull people back to schools, because of this, the students would want to go back inside their classrooms to show the people around them their talent in playing the sport.
Read: DepEd Sets Age Limit For Kindergarten Students
Before nakikita nila ang bilyaran as a disturbance sa students but now they see it in a positive way na kapag nilagay nila ang billiard sa school, 'yung 'di nag-aaral may way na para pumasok siya sa paaralan."
This was since last May of last year. Currently, schools can now fit in billiard tables inside schools which can be used to practice especially during P.E. sessions and classes. However, it should be under controlled time.
In addition, schools are also trying to gather coaches to teach not only students, but also those people willing to learn the sport. This can also be used to represent each school if there are events and competitions if the billiards sport is the one in highlights.
Dinero also added that billiards inside the school can positive impact the idea that revolves around billiards. He said that if it's done inside the school, it will be promoted that the sport is not a betting sport because that's how the idea is for people who play the sport in hidden areas.
So, this means that basketball and volleyball are not the only sports where scouts are going to be on the lookout for potential people since Billiards is now considered a regular sport in the Palarong Pambansa. 
Palaro is now also scouting people with the potential of playing the sport in national competitions. Take region 12 for example, where they are looking for out-of-school-youth who spend time in places where there are billiard tables. They try and convince these people to go back to school to have their chances of being known heightened.
Read: Korean Language to be Taught in Public High School
Nag-i-scout kami ng out-of-school youth na qualified pa sa DepEd. Nag-iikot kami ng mga may potential sa billiard at inaaya namin bumalik sa pag-aaral at magkaroon ng tsansa sumikat through billiards," as per Marconie Luague of Region 12.
So does this mean that there can be billiard tables and areas built near schools?
Still no. Tupas made emphasis of this that there can be "inside" schools but there can't be outside and near them. Why? Because the students can be lured and convinced to not go to school but to proceed in that area instead.
Moreover, they're trying to put into stone that people good in the sport doesn't mean that they're already lazy or the fact that they "don't have future" because this sport is for intelligent people.
What do you think about this resolution? Would this be an answer to an underlying problem of students cutting classes?