Grab Car, one of the easiest and best means of transportation here in the country has a new reward program in store for all riders now.
After the few issues and dilemmas about insufficient drivers and high fees, Grab Philippines will now reward passengers and riders every time a Grab driver cancels your trip.
Read: How Much Money Have You Spent on Grab?
Last November 2018, Grab Philippines made the announcement that they would start penalizing users who cancel on drivers excessively when they get booked. On a January 30 event, the company shared the feedback they received from drivers about users who cancel even when they driver is on their way to the pinned pick-up location.
How did Grab address this issue?
They were successful in addressing this concern via the Passenger Time-Out. The Passenger Time-Out is a feature which effectively bans riders a maximum of 23 hours if deemed that you were excessive in cancelling rides. More so, the amount of time will depend on the frequency of cancellations.
ReadL LTFRB Responds To Grab Drivers' Cancelled Rides
But what if the ride was cancelled by the driver, not the rider? Good news for people who always get cancelled because in this case, Grab Philippines made a decision to give users 30 Grab points as compensation every time the ride is cancelled by the driver. So, if multiple drivers cancel your booking request, you will get 30 points per cancelled ride. The credit will be in the user's account within 24 hours. It's not going to be immediate but after 24 hours.
Grab application improvements
Destination Change
In addition to that Passenger Time-Out feature, Grab Philippines also shared some of the improvements in the application for the benefit of the riders or users. One of which is the destination change. People who will use the transport function of the application, except for GrabShare, of course, will now be able to change their drop-off points while in transit.
Yes, there is now a last-minute modification of the route and the app will automatically recalculate the fare as well as the route. This is going to be a good feature for people who were not able to correctly pin their destinations or those who will have a sudden change of plans.
Read: New Landport Bus Terminal That Looks and Feels Like an Airport: The Parañaque Terminal Exchange (PITx)
Places to go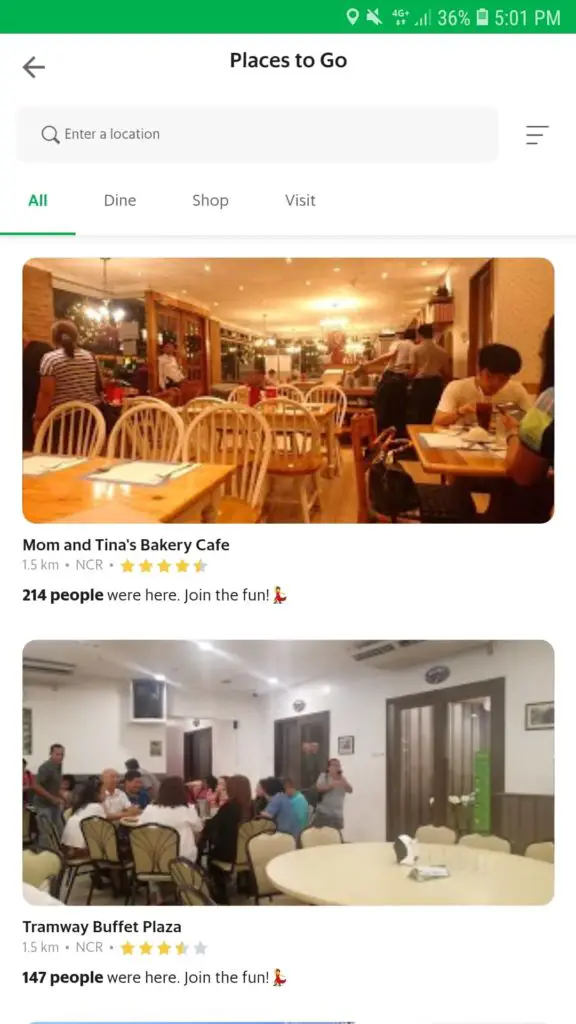 This feature will allow you to see some of the places people went to recently. It's like some sort of a suggestion from the Grab app which is linked to the frequent places you visit with using the Grab application.
You can select from the different categories: Dine, Visit, Shop. More so, you can type in a specific location and a category that goes with it.
Saved Places
This feature will allow you to save places. This will be extremely useful if you use Grab to get to specific destinations. This is some sort of a quick selection of locations that you frequently visit.
Read: LTFRB opens 20,000 TNVS Slots
In addition to that, you can now cancel your booking before a driver gets assigned to the booking that you requested; making you less susceptible to the Passenger Time-Out feature that was just recently rolled-out.
Lost and Found
Last but definitely not the least, this feature, as the name suggests, is the feature where it can help passengers contact the driver directly after their trip. There have been multiple cases of items and cash being lost in a trip and even most of the drivers are honest, we still cannot be so sure.
The Lost and found feature will allow a passenger to contact the driver directly. Just click on the past booking and you will be able to contact the driver.
NOTE: This feature is only allowed after a maximum of four (4) hours when the trip is finished. Utilizing this feature will help you reach the driver via the help center for items or personal things left in the vehicle.
Prepaid Load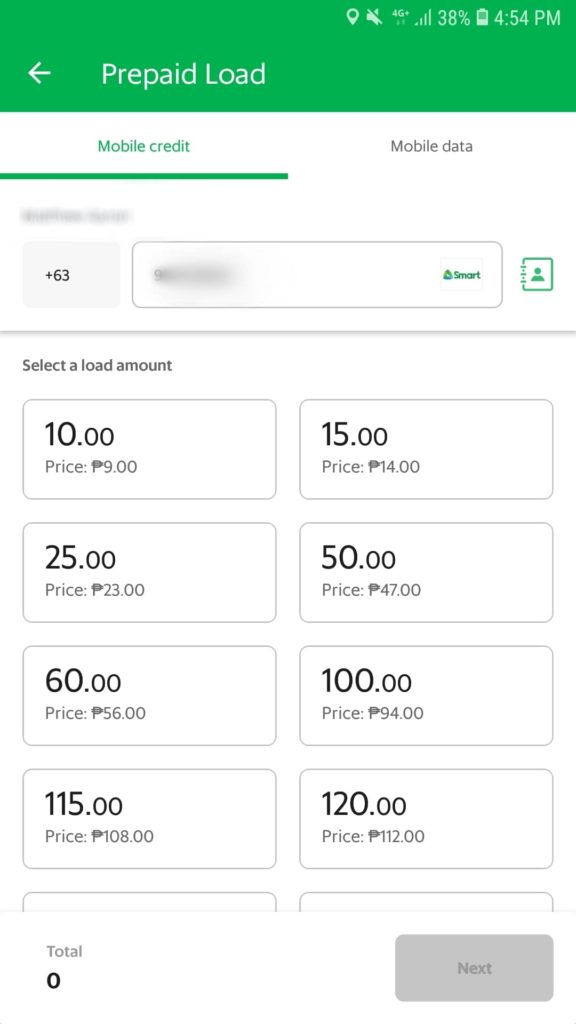 This feature is not technically new but it was not noticed by many. Grab recently released the Prepaid Load option which can allow users to convert some of their Grab Points to Prepaid Load.
The amount denominations are:
P10.00 load for a price of P9.00
P15.00 load for a price of P14.00
P25.00 load for a price of P23.00
P50.00 load for a price of P47.00
P60.00 load for a price of P56.00
P100.00 load for a price of P94.00
P115.00 load for a price of P108.00
P120.00 load for a price of P112.00
P145.00 load for a price of P136.00
P200.00 load for a price of P188.00
P240.00 load for a price of P225.00
P250.00 load for a price of P235.00
P300.00 load for a price of P282.00
P480.00 load for a price of P451.00
P500.00 load for a price of P470.00
P1,000.00 load for a price of P940.00
As you can see, you can get discounted rates for prepaid load, given that you have credits in your GrabPay account. Alternatively, you can directly apply for a subscriber promo if you need mobile data to utilize the application by selecting the "Mobile Data" category.
GrabExpress Updates
Other than the regular Grab Car and Grab Share updates, GrabExpress also added a few features for more convenient and better transactions with the deliveries.
Read: Road Etiquette and Safety Education to be Included in the K to 12 Curriculum
Multi-stop delivery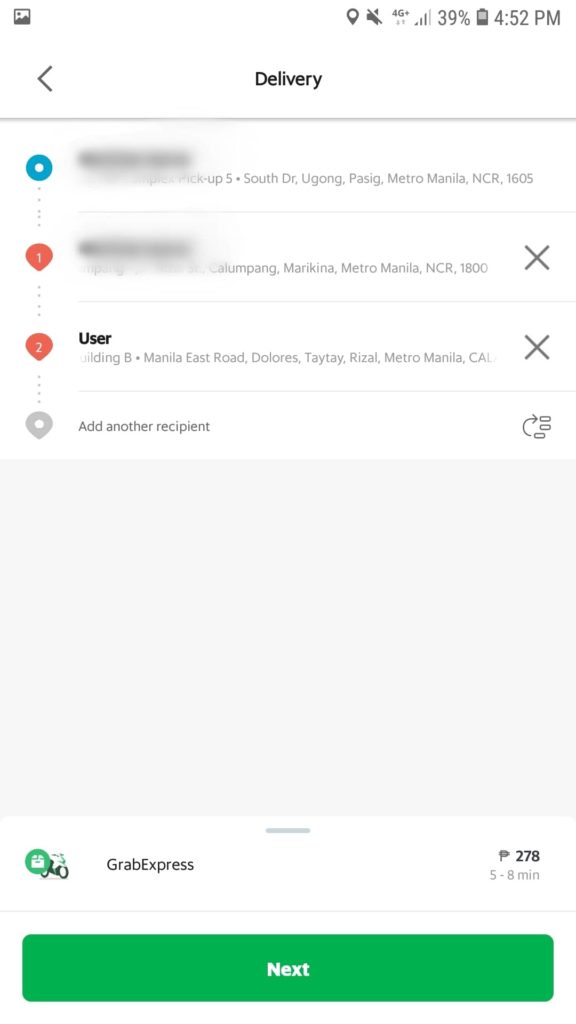 This new feature will now allow users to send deliveries to a maximum of five (5) different locations or recipients using just one booking with one rider. This will avoid multiple delivery fees.
Multiple concurrent bookings
To add to the multi-stop delivery, this multiple concurrent bookings is a new feature dedicated to GrabExpress users to deliver a maximum of ten (10) parcels using different riders at the same time.
This will be extremely useful for entrepreneurs who need to deliver multiple goods at a time. So, no need for you to wait for your GrabExpress booking to be finished in order for you to be able to send a delivery again.
These are just among the new updates of the Grab PH application. If you think that there are more issues that need a concrete resolution, just write to them via your application or their browser access.
Don't have the Grab app? Click here to download for iOS. Alternatively, you can click here to download for Android users.
Update the Grab app in order for these updates to take effect. What do you think about the updates from the Grab app? Would you be using the Grab application more after knowing some of its best improvements and updates?