You might be one of the commuters who were recently shocked by the sudden ban of liquids in both Metro Rail Transit (MRT) and Light Rail Transit (LRT) stations. This is because the government suddenly imposed the said ban because of the directive from the Philippine National Police (PNP). In a previous post, we discussed the said ban and also gave you the list on what you can bring inside stations and trains.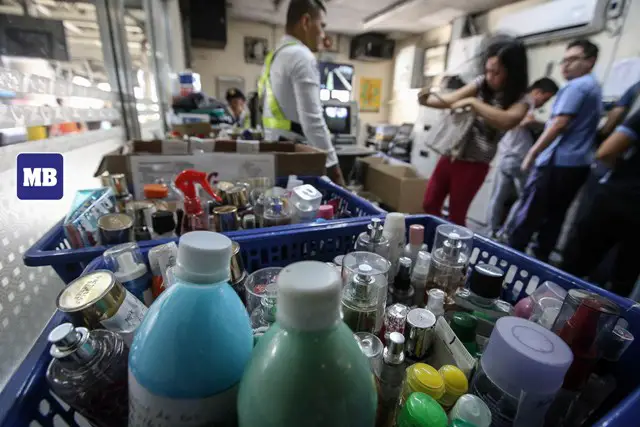 Read more to learn about this list: MRT and LRT Lines Banned Liquids in Trains
Well, consider it good news if you're one of the people who always brings drinking water, refreshing drinks, or even perfume with you to keep it handy in your bag. Why? Because they have temporarily lifted the said ban last February 20, 2019 – but only in MRT Line 3 and LRT Line 2.
The Metro Manila Rail Transit System (MRT Line 3) – said on Wednesday that they will allow over 100 milliliters (ml) of drinking bottled water, alcohol, perfume, and similar liquids in all stations, but to be allowed to carry the item inside, the passengers need to test the said liquid in front of MRT Security Personnel.
For example, if you plan to bring a bottle of water, personnel would need to see you drink the water first. For perfumes, you need to spray it over to guarantee that the substance is really perfume.
Light Rail Transit-2 (LRT-2) is on the same boat as with the MRT. They have also temporarily lifted the liquid ban as well.
According to LRTA Spokesperson Hernando Cabrera, they are temporarily allowing the bringing of liquids inside stations and trains.
Lifted po pansamantala ang pagba-ban ng bottled water at liquid items sa LRT-2 habanghinihintayang official IRR mulasa Office for Transportation Security."
Meanwhile, the infamous LRT-1 still imposes the said ban on bottled waters and drinks in their stations as the management said. They have released a statement via their official twitter account (@officialLRT1) last February 20 as well.
Ang LRMC ay patuloy na ipatutupadang guidelines ng PNP sa pagbabawal ng mga bottled water at iba pang inumin salahat ngaming mga station. Aming pinapahintulutan ang pagdadala ng breast milk bags, feeding bottles, medicines, alcohol at perfume basta ito ay dumaan sa security check. Maraming salamat sa inyong kooperasyon."
Meaning, passengers can bring in liquids so long that they are thoroughly checked by the security personnel of the station.
The lifting of the said ban for the two stations would really ease the life of many commuters since bottled water are usually a necessity when many of us travels especially when it's hot outside, but maintaining the strict checking of the liquids is good as well protecting the passengers well being in the process and avoiding any possible danger that may show up.
Some people are against this even if the stations and the government already allowed passengers to bring in liquid substances. A few of the passengers feel that their "privacy" are being penetrated.
What's the reason for the banning of liquids again?
According to the PNP, liquid can be one of the main ingredients of a bomb. More so, a lot of skilled bomb technicians can make a simple bottle of water an instrument to wreak havoc publicly.
This is the reason why they implemented a ban on liquids in all of the trains. Ever since the news broke out about the Metro Manila Subway is being built, a lot of netizens also questioned if they would impose the same type of ban in that.
Well, as of the moment, no mention of it has been made so people can not worry about it because its construction is still underway. More so, we cannot expect it in a few more years so there's no harm done in that.
What do you think about the liquid ban lifted temporarily in trains and stations? Is it just right that security personnel ensures the safety of the liquid that the passengers are bringing inside their establishments?