Yesterday was the race for senatorial candidates and some people were expected to be on the leading list—while some wasn't. Ronald Bato dela Rosa, one of the leaders in the senatorial bets recently came to admit that he has little to no experience on lawmaking.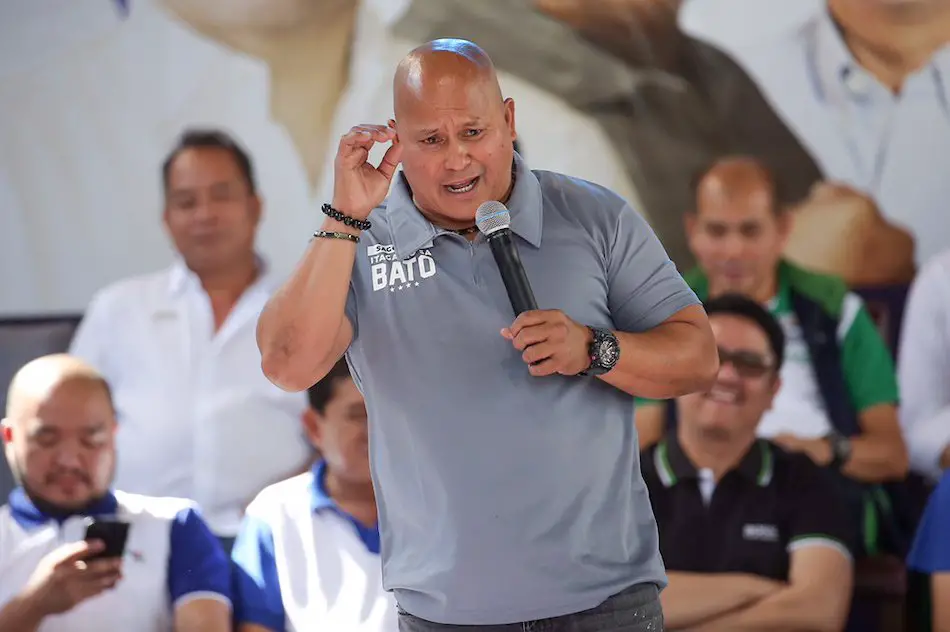 This is why Bato dela Rosa, one of the leading bets in the senatorial race, said that he is looking forward to attend seminars on making laws; of course, this act is for him to learn and to know more about the post he entered.
According to the Philippine Star, the tally for the senatorial race, Bato is the 5th among the leading candidates for the post.
Attending and applying for seminars
Ronald Bato dela Rosa said that he is open to learning more about lawmaking in the event that he wins a seat in the seat for the Senate. He admitted that he has an idea on what a Senator really does but lacks the ability to be able to act on it.
Ewan ko kung meron bang seminar dyan, or ano bang training dyan para matutuhan ko kung paano gawin 'yung ng batas, kung paano gawin 'yung trabaho sa senado. Kung merong ganon I'll take that opportunity para matuto ako." 
In Translation: I am not sure whether or not there are training or seminars in order for me to learn how to create laws; how to do the job in the Senate properly. If there's a chance like that, I will gladly take it so that I will learn.
In an interview with CNN Philippines last Tuesday, he said that he is looking forward to attending some seminars and training in order for him to learn how to create laws.
Bato Dela Rosa: I want to join seminars on how to create laws | #TheFilipinoVotes https://t.co/msCLmwV0u6 pic.twitter.com/TOP06eYrCL

— CNN Philippines (@cnnphilippines) May 14, 2019
Based on the current tally of the Philippine Star, Bato dela Rosa ranks 5th with a total number of 18, 442, 153 votes. Although this tally is unofficial and not yet final, the Commission on Elections (COMELEC), who is tasked in this matter is the department who is continuously checking whether or not the results are legitimate.
Being part of the current President's party-list, the PDP-Laban, dela Rosa said that he would not choose to be enrolled to some of the Philippines' premiere and exclusive State Universities.
Pag UP 'di na ko pupunta dun, alanganin ako sa lugar na 'yan. Anti-military 'yang lugar na 'yan, ayaw ko pumunta d'yan, anti-police 'yan."
In Translation: If it's U.P. (University of the Philippines), I won't go there. It is an anti-police and anti-military so it's my firm decision not to attend there.
In addition to that, he also said that he would want to seek personal and professional help from senators JV Ejercito and Koko Pimentel, who are both re-electionist Senators.
Magtawag tawag ako kina Koko Pimentel, JV Ejercito kung ano ba talaga ang trabaho ng senador.. what do I need to prepare para pagpasok ko… hindi na ito katawa-tawa."
In translation: I would call Koko Pimentel and JV Ejercito for help to guide me on what a Senator really does.. what I need to prepare so that when I sit, I won't be a laughing stock.
Although JV Ejercito is currently at the outskirts of the Magic 12 candidates, he sits on the 13th spot with a total of 14, 001, 516 votes.
He said that he will offer prayers for the improvements of the votes for JV Ejercito and that Koko Pimentel's votes won't come to a decline.
Kaya nga malungkot nga ako… Dasal na lang. Magdasal dasal ako na si JV makaakyat, si Koko wag na bumaba." 
In Translation: I am sad, really.. I will just pray that JV's number of votes will see an increase and for Koko, I will pray that his won't see a decline.
Hopefully, the plans of Ronald Bato dela Rosa's training and seminars to make laws would be of importance for him to have appropriate knowledge about the post he entered. There is a huge possibility that he'll be one of the new senators of the country based on the current statistics brought by COMELEC.