We all know that 7-Eleven has proven its worth and brand in all Filipinos in the country. In fact, there were news that 7-Eleven franchises are being expanded by having its franchise price lowered—we're not here to talk about that. Other than the fact that 7-Eleven is one of the few reliable convenience stores from snacks, food, refreshments—they expanded their products to include everyday items, hair clips, chargers, and other more things.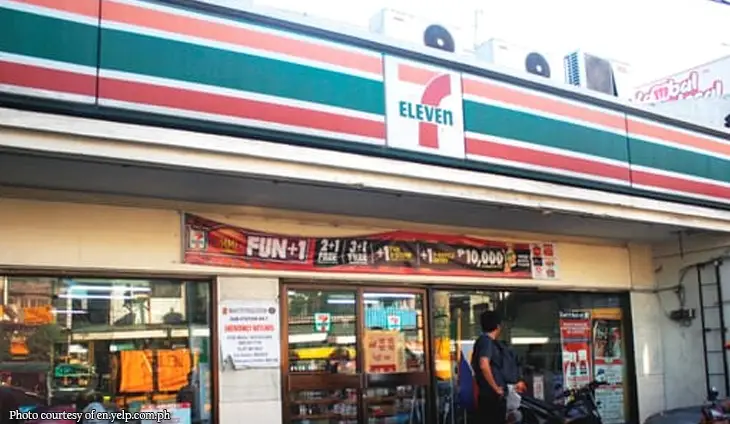 Do you want to be entertained? If yes, then you should follow the 7-Eleven Daet Facebook Account. They were successful in accumulating 96K likes and some of their posts reach 50K shares! Yes, that's how entertaining they are—you will laugh hard from the 7-Eleven Daet Facebook posts and the stories they have to share.
Read: The Cashless Palengke in Valenzuela City Will Leave You Breathless!
What does 7-Eleven Daet post in their page?
If it's entertainment you're looking for with a touch of 7-Eleven, you shouldn't stray far from 7-Eleven Daet. Mostly, they post entertaining stories that people encounter when they visit the specific 7-Eleven branch.
7-Eleven is one of the few convenience stores who operate 24/7 so there would really be peculiar, funny, and scary stories that people have to offer. Some of the posts are rather unexpected and fun to read.
Sa totoo lang, nakakaawa itong shop namin kasi kung hindi patuyuan ng mga taong pawis na pawis, pagpagan naman ng mga taong galing sa burol."
In translation: In reality, I pity our shop because it's not just a convenience store, it's also a place where sweating people settle to dry themselves out. Not only that, our shop is also the place where people who came from funerals drop by to follow tradition.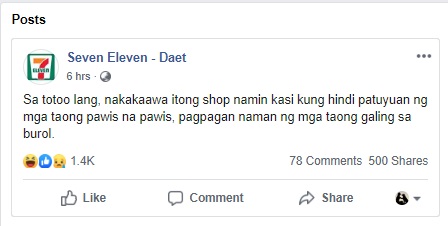 Another post, which many people can really relate to is the fact that the page called out the people who try hard to find comfort rooms in 7-Eleven shops.
Realtalk lang ah, bakit kayo hanap ng hanap ng cr samin, wala ba kayong cr sa inyo?"
In Translation: Why do you always ask us if we have restrooms? Don't you have one at home?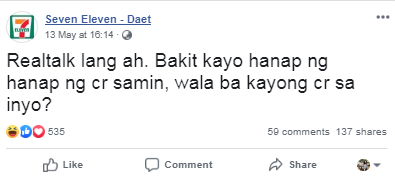 I know, it's really entertaining and it really reflects the lives of people who enter some 7-Eleven shops in the country. They even have beef with the Ministop-Daet Facebook page, too!
Read: Shakey's Will Open 20 New Stores This Year
In one post, the Ministop-Daet Facebook page directed a post to 7/11 with the caption: "Oh ano 7/11 rebat pa wala ka naman pala eh." The 7-Eleven Daet page shared this and made a humiliation out of this post with the caption "Sana okay ka lang" (I hope you're okay).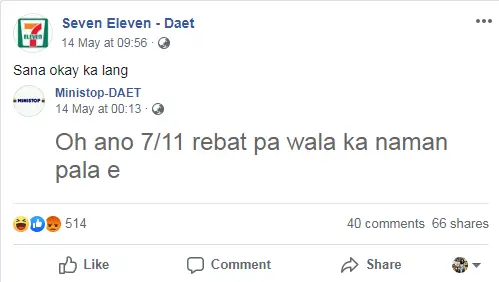 And last but most definitely not the least would be their posts that relates everything to "love life." Most Filipinos love this and even coined a term hugot. 
"Slurpee"

Parang yung relasyon nyo, sa una lang masarap pero habang tumatagal patabang na ng patabang. sa una lang sweet pero habang tumatagal nawawalan na ng spark."
In translation: Our slurpee is just like your relationships. It's tasty and sweet in the beginning but as time goes on, it becomes blander and duller; your love is sweet but as time goes by, the spark goes off.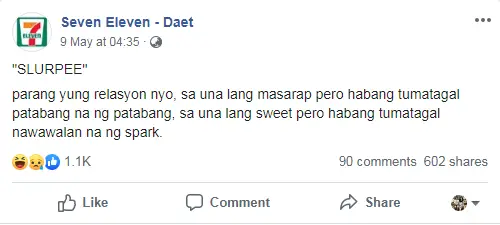 If you want to be entertained, follow the Seven Eleven-Daet Facebook page and read whatever they have to say that really hits people because they know what's up!
Currently, 7-Eleven is one of the best investments you can make because the Philippine Seven Corporation (PSC) plans on lowering the franchise fee of 7-Eleven to be able to accommodate people who look to have an operation 7-Eleven store.
They got a lot to share and that is why people admire the 7-Eleven Daet Facebook posts. In fact, they are being mirrored by other branches. Although there are no guarantees that the page is in any way connected to the people who manage the 7-Eleven Daet branch.
Read: Cheaper Franchising of 7-Eleven from P3.5 Million to Less Than P1 Million
So do you have any thoughts on how 7-Eleven can improve what they give the public? The Seven Eleven-Daet Facebook page can be of help because when it grows famous, it can be noticed by the proprietors of the brand themselves.
Follow the Seven Eleven-Daet Facebook page, be entertained and have fun!