Miguel Castro Enriquez or more commonly known as "Mike Enriquez," is one of the leading TV veteran broadcasters. Yesterday, he trended on some social media platforms after some Filipinos shared short previews of his reports and appearances in the election coverage of GMA Network. In these, he said direct commentaries about the official unfinished polls by the Commission on Elections (COMELEC).
Read: Bato to Undergo Seminars on Making Laws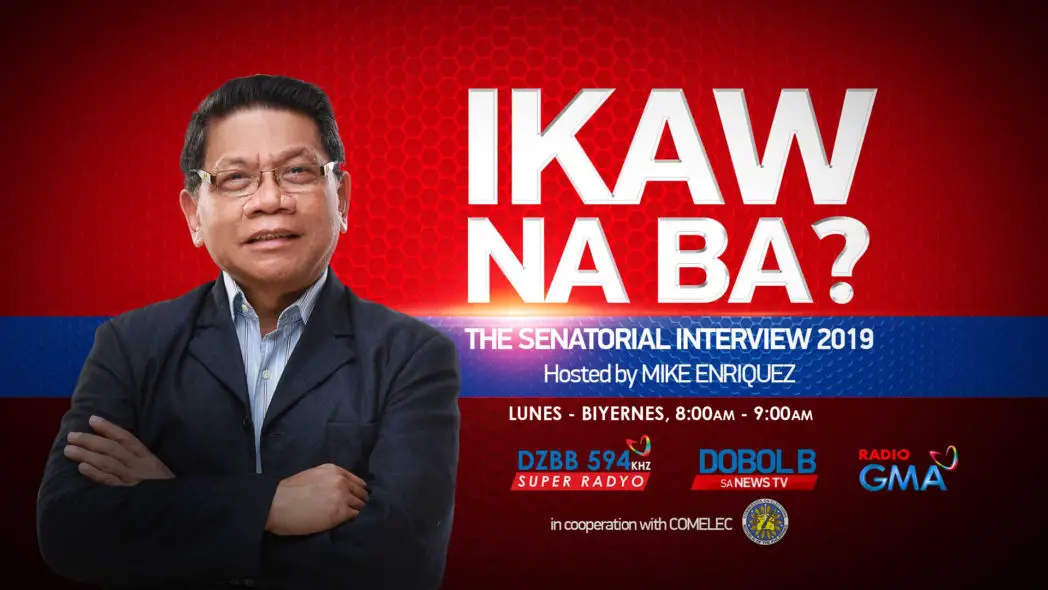 Eleksyon 2019 by GMA Network
Similar to other TV networks, GMA Network had their own special coverage of the 2019 elections. Mike Enriquez, together with fellow anchors Mel Tiangco and Jessica Soho, stated their comments and their opinions on the matter.
Read: DICT to Look Into the Hacking of Government and AFP Websites
They were reporting what was happening; however, there were a couple of parts where they successfully said their comments about some of the tallies of the race for the senatorial position.
What's quite shocking is the fact that Mike Enriquez were straightforward on what he was feeling about what's happening. In fact, it was like he was not on national television.
One clip that netizens showed was when Mike Enriquez was discussing with his fellow anchors and he mentioned that he wanted to do an interview with some of the leading candidates for the senatorial post.
The tweet, which was posted by the Malacañang Events and Catering Services had the caption that said Mike Enriquez spitting truth bombs.
Mike Enriquez spitting truth bombs pic.twitter.com/2BM5DLl3Ei

— Malacañang Events and Catering Services (@MalacananEvents) May 14, 2019
Mel Tiangco told Mike Enriquez to stand down and it's early for him to say things like that. This is in response to what Mike Enriquez said which was:
Lahat nung mga nanalo, oo, na ma-interview natin. Gusto ko silang singilin, anong maaasahan namin sa inyo ngayon?"
In this, Mike Enriquez pointed out that he just wanted to see for himself how the candidates, if they won, would stick and answer the promise of their campaigns.
He said that this is somewhat the start of something new; that the interview might be the door to the fresh start and improvement of the government; to see whether or not they will live up to what they were saying in their campaigns or not, he iterated.
Oo, para magkaalaman. Ngayon pa lang, magkaalaman na para sa habang umuusad ang kanilang termino, na-tse-tsek natin 'yung ginagawa nila versus 'yung ipinangako nila. Ganoon lang ka-simple 'yon."
Interview with Richard Heydarian
In another clip, he was in an interview with TV analyst, Richard Heydarian. In this, Mike told Richard that there are no changes in the occurrences happening in the midterm elections—yes, he said these all in national television with millions of viewers—possible some of the candidates watching.
Read: How to Choose the Right President for the Philippines
Professor Richard, wala pa rin sa kalaunan, wala pa ring tunay at malaliman na pagbabago at reporma tayong maaasahan."
The tweet, which was posted by @FluffiestTXT, had the caption "Mike Enriquez did this on National Television. Tea today. No lie just truth. #HalalanDayaan2019 #Halalan2019 #Eleksyon2019." 
Mike Enriquez did this on National Television. Tea today. No lie just truth.#HalalanDayaan2019 #Halaan2019 #Eleksyon2019
pic.twitter.com/40QzB3J13m

— shanang 9 3/4 (@shanefrancesxx) May 14, 2019
Mike's opinions and own perspectives about politicians
Last but most definitely not the least of the most talked about tweets of election day would be a short clip where Mike was expressing his views on the promises of some politicians. This is when both his co-reporters were forced to declare and call out a commercial break.
The tweet was posted by @adorablevice which had the caption: hE SNAPPEDT KAYA KINAILANGAN NG BIGLAANG COMMERCIAL HAHAHAHAHHA RAMDAM KO YUNG FRUSTRATION NIYA HANGGANG DITO SA CAVITE." 
hE SNAPPEDT KAYA KINAILANGAN NG BIGLAANG COMMERCIAL HAHAHAHAHHA RAMDAM KO YUNG FRUSTRATION NIYA HANGGANG DITO SA CAVITE pic.twitter.com/DfvEP2kWxk

— alak (@unheavenlies) May 14, 2019
Mike is just one of the few people who is courageous enough to spit this all out in national television, knowing the fact that some of the senatorial candidates are watching.
Kung kalahati lang sa mga ipinapangako ng mga kandidato ay magkatotoo, kalahati lang, hindi siyento porsyento, aba'y napakagandang lugar nitong Pilipinas. Ha?"
Some of the people who led the race had involvements in some of the most controversial talks there is when it came to politics. For instance, Bato dela Rosa or most commonly known as Bato, recently told people that he doesn't have an inch of an idea on how to create, implement, and make laws.
Read: National ID, Approved By The Senate And Is Now On Final Reading
In addition to that, Ramon Bong Revilla or Bong Revilla, who was involved in a large national scam where he used millions of pesos inappropriately with the help of Janet Lim Napoles, is part of the 12 senators in earlier tallies.
What do you think about the 2019 elections? How did Mike Enriquez go in terms of expressing his thoughts and opinions in national television? There's an actual reason why Mike Enrique trended on social media platforms; if you haven't seen the broadcast, you can watch some of the captured clips on YouTube.