When you hear Philippines, what's the first thing that comes to mind? To us Filipinos, it's not the natural resources, and the sceneries; we are famous for one (1) thing—for the traffic. In most thoroughfares in the country, if not all, traffic is just one block away. But have you ever pondered upon why this is so? Have you ever thought of the causes of Metro Manila traffic?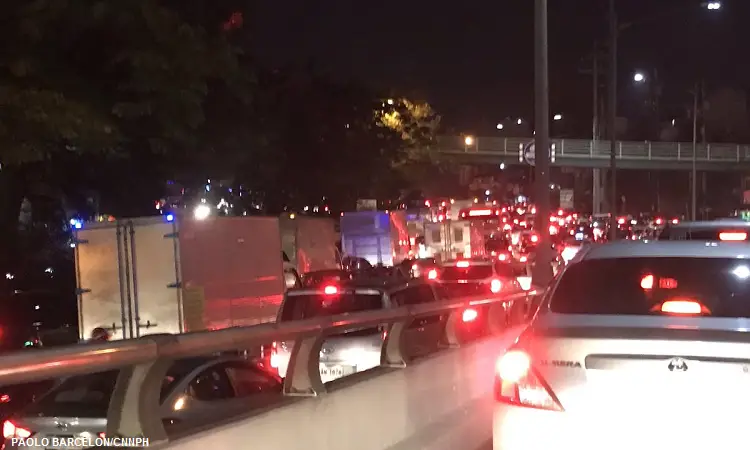 Well, a lot of causes have been studied by experts, and a lot of proposals to ease the traffic have been submitted. Many people even had an unorthodox approach and thought of implementing a car brand-coding scheme to help get rid and resolve the traffic in EDSA.
As per data from the Metropolitan Manila Development Authority (MMDA), there are five (5) main causes of Metro Manila traffic.
Read: Another Proposal to Resolve the EDSA Traffic Dilemma, Submitted by a Lawmaker
Pasig City—the bottleneck capital of Metro Manila
In a previous article published by Top Gear Philippines, they said that Pasig City is the bottleneck capital of the Metro. Based on statistical data from local government units (LGUs), Pasig City has been known to have the worst areas in terms of traffic.
Although there are various reasons for Metro Manila traffic, there are five (5) that has been deemed to be the reasons why the traffic is worsening; mixed traffic with pedestrians/people, loading and unloading of passengers at intersections by public utility jeepneys (PUJs), saturated demand, illegal roadside parking, and the unruly driving behavior of motorists.
Read: Proposal of Food and Bus Terminal Plans by San Miguel, Aims to Decongest EDSA
There were two (2) charts provided by both LGUs and the MMDA. In both charts, it is evident that the five (5) reasons stood out among the rest in terms of determining Metro Manila traffic.  See the chart here: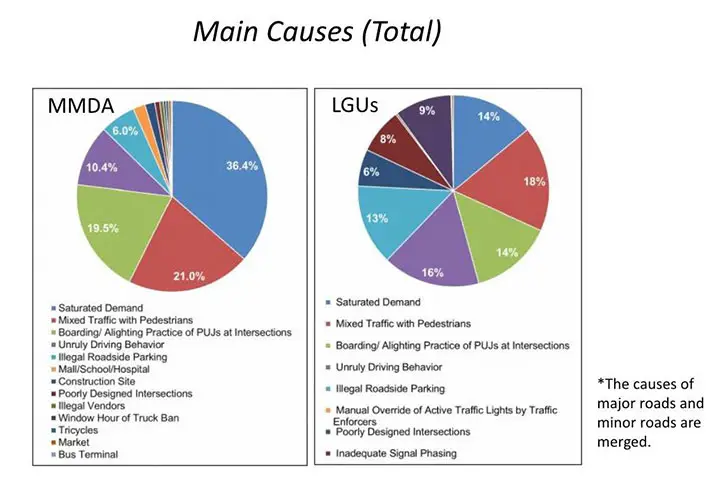 In the data submitted by the MMDA, it is noted that 36.4 percent of the traffic is coming from saturated demand; whilst data from the LGU dictates that saturated demand only makes up 14 percent of the total traffic.
Mixed traffic with pedestrians, make up 21.0 percent from the MMDA's data while it's 18 percent in the data from the LGUs.
Read: Driver-Only Car Ban in EDSA, Looked Into by the MMDA
And as you can see in the data from the MMDA, there are different reasons of wide variety on why the traffic in Metro Manila is rampant. There are construction sites, malls/schools/hospitals, bus terminals, tricycles, literally everything that you can think of is there.
Major thoroughfares in Metro Manila
In addition to the said chart, the MMDA also has a separate graph which provides specific and thorough details about Metro Manila. In this graph, it can be seen that part of the reasons why there is this infamous Metro Manila traffic is because of the roads. It can be seen and experienced in Roxas Boulevard, C5, and Mindanao Avenue.
Unlike the chart above, this chart details the reasons for the traffic along with the main thoroughfares and roads in the country. As you can see, Roxas Boulevard holds the most number of saturated demand instances. In addition to that, mixed traffic with pedestrians plus unruly driving behavior makes up for the traffic in that area.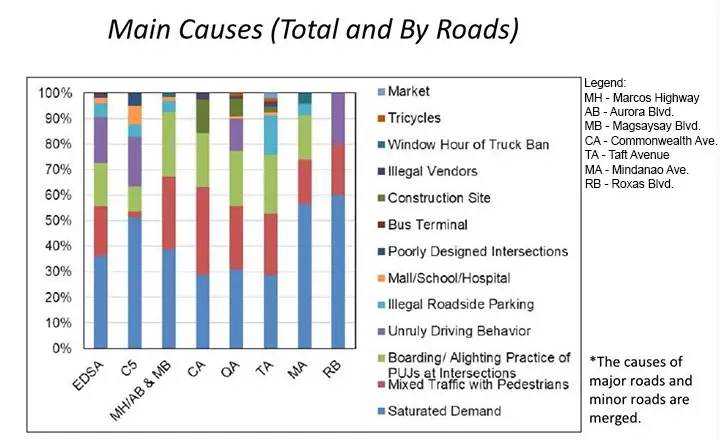 The most diverse in terms of Metro Manila traffic, as per the data from MMDA is Taft Avenue containing almost all reasons on why traffic is existent.
Read: No Parking, No New Car Bill, Wanted to be Fast Tracked
Although these data seem drastically possible and legitimate, the government should focus more on determining these types of causes and to address them in a way in which the traffic can be resolved.
Are you a frequent traveler of these roads? Do you traverse them regularly? If you are, then you really know the struggle of motorists, even commuters who travel them constantly. Hopefully, these things can be resolved by the government soon. Why? Because according to a report and a study last year, Metro Manila traffic takes away around P3 billion everyday because of the traffic—yes, it's already becoming not jus a headache, but also something that leeches profit off of our country.