After the issuance of the Technical Working Group (TWG) of a 39,000 cap of registered bikers per operators which were MoveIt, JoyRide, and Angkas, Angas Riders get a 72-hour window off of the cap that was provided.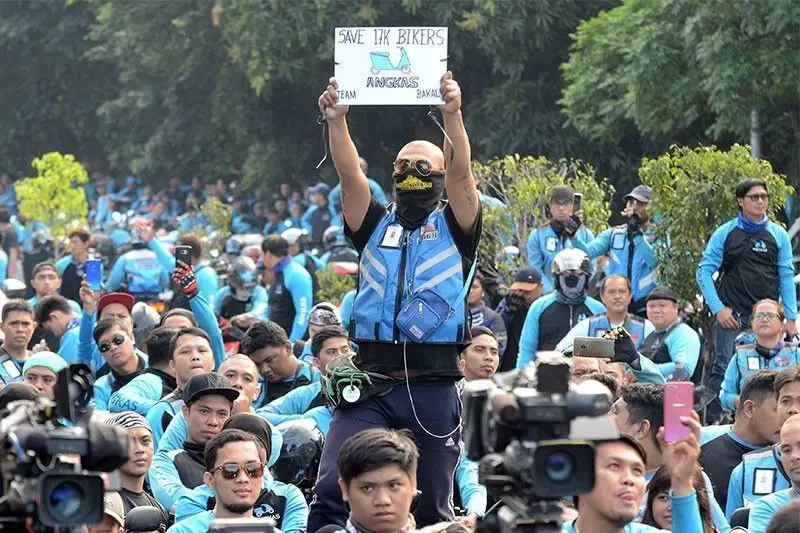 Ofelia L. Calo, Mandaluyong Regional Trial Court Acting Executive Judge issued a 72-hour temporary restraining order (TRO) on the cap or the limit that was placed by the TWG for the pilot run of the motorcycle taxis.
Read: Lower Fares For Motorcycle Taxis in Metro Manila and Cebu City, as per TWG
The 3-day grace period
In the three (3) page order issued by Calo, it was mentioned that she granted the petition of allowing the Angkas riders get a 72-hour window off of the cap. This was because of the cries of both the riders and the passengers who see the daily commute as a challenge; can be for going to work, for leisure, going home, etc.
Wherefore, as prayed for by petitioners, a 72-hour temporary restraining order is hereby issued, upon posting of a bond in the amount of P300,000, enjoining respondents… from implementing the Revised General Guidelines for the Pilot Implementation of Motorcycle Taxis insofar as it puts a cap on the number of bikers that Angkas is entitled to, and from performing any act that limits and impairs their rights to deal with and continue with their contracts with Angkas."
Read: The DOTr Pilots Implementation of Motorcycle Taxi Operations: Angkas is Back
After a bond posting of P300,000 was when this halt order was issued, noting that Angkas is given this chance to suffice the needs of commuters.
The history of the motorcycle taxi commotion
Before the holidays, many Angkas partner-bikers were forced to load out as an order from the TWG forced to have allotted caps to all motorcycle ride-hailing applications; Angkas, MoveIt, and JoyRide.
Angkas management sought this as a move that was "morally wrong" and "anti-competitive," complaining that some 17,000 of their bikers would be forced to find another job because they'd be unemployed.
Read: Free Rides to Students, Offered by the Transportation Department (DOTr)
More so, the allotted cap had rules that a biker must be registered to just one (1) ride-hailing app.
Now, after all the petitions from bikers and commuters, Angkas riders get a 72-hour window to ride without the cap, a chance for them to earn money while they can.
The Mandaluyong Regional Trial Court said that at this stage, it is enough evidence to point out that this move was grand; they were saying that this is something that most people, riders and commuters need.
At this initial stage of proceedings, suffice to state that these conditions are extant at the moment, there is urgency in the issuance of a 72-hour TRO."
Read: Land Transportation Office (LTO) Fees For New License, Student Permits, Etc.
The extended pilot implementation
After the rundown from 27,000 to just 10,000 registered bikers, Angkas riders were given an extended pilot implementation until the 23rd of March, 2020 until the decision whether or not the app will go on and continue.
Back in June of 2019, a six (6) month pilot run was approved and carried in Congress to check and assess the bills that legalize the use of motorcycles as Public Utility Vehicles (PUVs).
Antonio Gardiola, Land Transportation Franchising and Regulatory Board (LFTRB) board member and TWG Chairman said that this pilot extension was issued to further extend their means of studying and determining the operational feasibility of allowing 2-wheel vehicles operate as PUVs.
Read: WOW: Seven (7) Out of the 9,000 Exam Takers Passed the Riders Traffic Safety Exam
What they're trying to get at is if they'll allow it, would it be safe and convenient for consumers? And would this type of standard be franchisable?
We want to determine their operational readiness and compliance. We also want to determine whether or not motorcycles are really a safe and viable form of public transportation. That is always our priority — the safety, security, and comfort of the riding public."
Nevertheless, even though Angkas riders get a 72-hour window without the allotted caps, the order from the LTFRB would still be what's the standard until the end of the extended pilot implementation.
Read: Would The Removal of EDSA's U-Turn Slots to Improve Traffic?
For now, to all Angkas riders who lost their living, let's wait for further announcement. Who knows? Maybe this TRO will be extended as they've said that this is for "urgent measures."
For riders, however, there are many options of ride-hailing apps to choose from – it's just a matter of waiting when our government will start to accept this. They would have to mitigate the situation by coming up with alternatives to commuting to lessen the burden of daily travelers.
One the PH government sees the importance of ride-hailing apps like this that most people patronize, they'd be forced to weigh it all in.
Source/s: The Philippine Daily Inquirer | The Philippine Star