NBA games to PH television has been made possible – again, thanks to the collaboration between Cignal TV and Smart Communications. The world's premier basketball league on Monday revealed that it has signed a multi-year partnership with both companies to provide fans in the country NBA games and programming through free-to-air, satellite television and over-the-top streaming.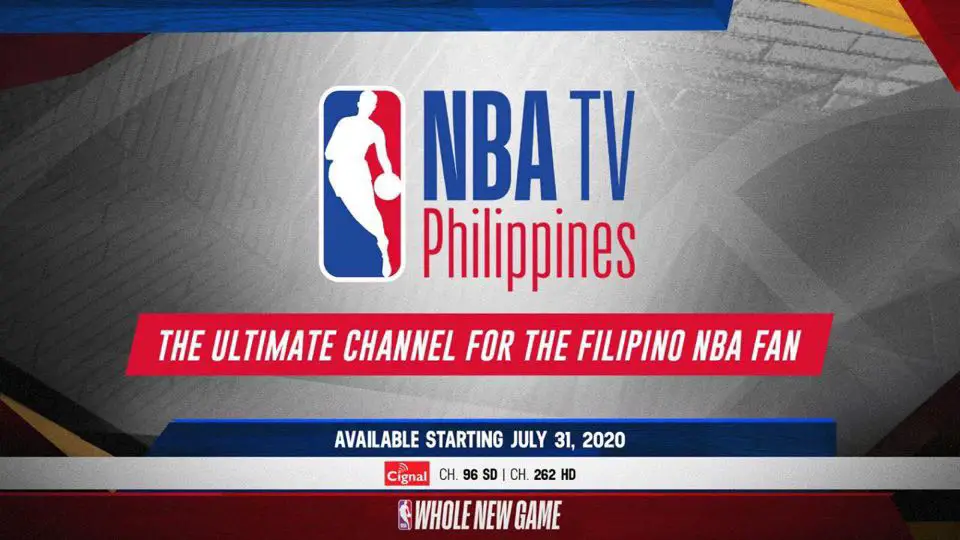 The games may be watched on the three channels which are premium cable channel NBA TV Philippines, local channel TV5, and ONE Sports starting Friday, July 31, to coincide with the 2019-20 NBA season restart. Free-to-air channels TV5 and ONE Sports will feature and host live NBA games for the first time, including four games every week, the NBA announced.
Read: NBA Ceased Broadcast in Pay TV, Cignal and Sky Cable Negotiates Joint Bid
Channels to televise NBA games
In case you're wondering which channels would televise NBA games; we got you!
TV5 and ONE Sports will broadcast select "seeding games" and playoff games through the first and second rounds, while the Conference finals will be broadcasted in its entirety between the two channels. However, 2020 NBA Finals will be televised only on TV5.
NBA Philippines likewise reported that NBA TV Philippines will be launched through Cignal. The NBA TV Philippines is the localized version of NBA TV – the league's dedicated 24/7 channel – which will feature live games and original programming in high definition.
To expand its existing partnership with the NBA to bring NBA League Pass to fans, Smart will livestream NBA TV Philippines using its new over-the-top service, which will be available only to the network's paid subscribers.
Read: Kobe Bryant, NBA Basketball Icon Has Been Reported to Have Died in a Helicopter Crash
NBA in the Philippines
Moreover, the NBA Asia Managing Director claimed that the Philippines has one of most passionate NBA fanbases in the world and by bringing NBA games to PH television, the managing director hopes it would somehow uplift the Filipino fans.
Scott Levy, NBA Managing Director, said that the NBA is going to be offered to Filipinos again!
The NBA restart is set against a uniquely challenging moment in time for our fans in the Philippines, who are among the most passionate and dedicated NBA supporters in the world. We are excited to partner with Cignal and Smart to bring NBA games to a nationwide audience, and we hope to play a role in lifting the spirits of Filipinos by bringing our fans together through their shared love of the game."
Read: Want to Watch the NBA 2019-2020 Season Games for Free? Here's How
Likewise, Robert Galang, the Cignal TV President and CEO, added that the company's partnership with the NBA is a huge step forwarding that they have the best interests of their subscribers at heart especially now by bringing back NBA games to PH television.
He said that they're more than thrilled to announce the biggest basketball sports move of the year; after everything that's happened.
We at Cignal TV are extremely thrilled to bring the world's biggest basketball league back to every Filipino home. Our partnership with the NBA is a huge milestone in our mission to bring the best content to our viewers and subscribers. With three channels broadcasting the games; Filipinos now have the chance to experience the NBA live on free TV channels TV5 and ONE Sports, and on Cignal TV's NBA TV Philippines in high definition. The game we all love is now truly home."
Smart will relaunch NBA.com/Philippines, the league's official digital destination in the country, later this year. To all NBA fans out there in the Philippines, this is the time we have all been waiting for.
Smart CEO Alfredo Panlilio also continued to say that Filipino fans are hungry for some basketball livestreams. "As some of the world's biggest basketball fans, the hunger for live basketball action is in our DNA," said Smart president and CEO Alfredo Panlilio.
Read: Pinoy Channel, Pinoy Tambayan and other Pinoy TV show's Streaming Websites has been Successfully Taken Down
ABS-CBN and Cignal joint bid
Cignal previously made a joint bid for the NBA broadcast rights alongside ABS-CBN after the league's long partnership with Solar Sports ended. However due to unforeseen circumstances, ABS-CBN dropped out of the bid due to the company's dificulties in securing a new franchise from Congress, ultimately creating the space for TV5's entry.
Cignal sources claimed TV5 will televise one NBA game during the weekend on free television, while One Sports will air two games during weekends. This isn't the one we wanted; but it's better than nothing!
After the contract expiry that transpired earlier this year or late last year; how do you feel about the entrance of NBA Games to PH Television again? Are you excited for the Cignal-Smart collaboration in bringing NBA games to PH television? What are your thoughts and your insights on this?