National Basketball Association (NBA) fans must feel anxious after Solar Entertainment terminated the airing of both Basketball TV (BTV) and NBA Premium on all local channels and pay TV nationwide. Yes, NBA Ceased broadcast in all local channels in the country.
In an advisory submitted by Cignal TV last Monday, they said that starting the 1st of October 2019, Solar Entertainment has ceased airing NBA content to the Filipino people. Solar Entertainment, on the other hand, had announced that watching NBA games would be expired on Monday, the 30th of September 2019.
Read: No Need to Unpack Passenger Luggage at NAIA, Says MIAA Chief
As you can see in the advisory, Cignal TV said that together with Sky Cable, they are negotiating with the NBA to continue giving optimum NBA content to Filipino basketball fans.
With the common goal of delivering NBA content to Filipinos, Cignal and Sky are currently in joint negotiations with the NBA. We have submitted an offer to the NBA for the continued carriage of the games and are awaiting a response. "
Read: The Department of Health (DOH) Recommends Price Reduction For 120 Medications
What was the reaction of the people?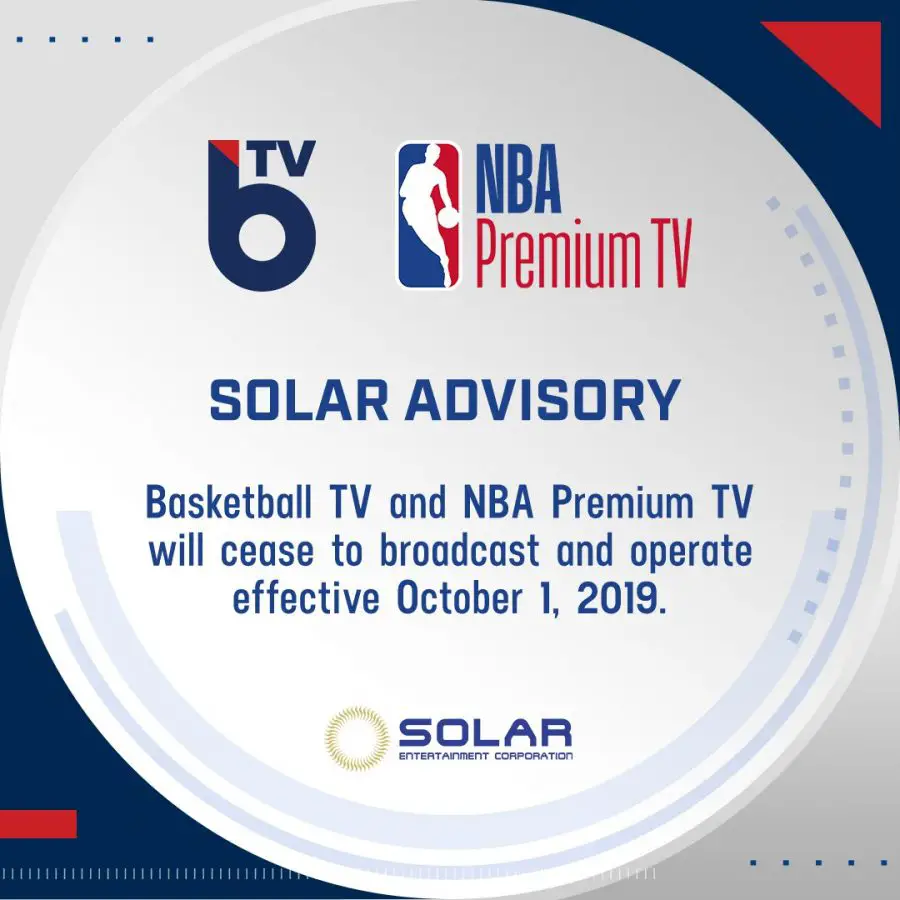 After the announcement made by Solar Entertainment, avid NBA fans from around the country was surprised of the announcement. One resident of Paranaque City said that he was an avid fan of the NBA and was a Sky Cable subscriber. As a matter of fact, he mentioned that he made it to a point that he regularly was watching the NBA.
Because of the fact that the regular season of the NBA will begin on October 22, 2019; all fans have their fingers crossed to see whether Sky and Cignal TV will be able to put up a new contract with the NBA.
After the announcement of NBA Superstar, Kevin Durant to be transferring to the Brooklyn Nets, all NBA fans would want to see how he teams up with another superstar, Kyrie Irving.
You can read about it here: Kevin Durant Shows His New Jersey No. 7 With the Brooklyn Nets
Watching it over the Internet?
Although it is still available online, many people prefer to watch in their big screens; on TV. Many of the fans said that it felt "different" while watching it on TV. Furthermore, they said that they have been "used to watching it on TV than seeing it on the Internet."
All avid fans of the NBA hope for the best after NBA ceased broadcast of their airing in all local channels and Pay TV channels in the country. What do you think about the expiration of the contract? Would a joint negotiation between Sky Cable and Cignal TV be effective in receiving a nod from the NBA?
Source: Rappler | The Philippine Daily Inquirer