After having won two (2) championships out of the three (3) seasons he's had with the Golden State Warriors, injured star Kevin Durant, shows his new jersey no. 7 along with Kyrie Irving working out with the Brooklyn Nets for their upcoming NBA campaign.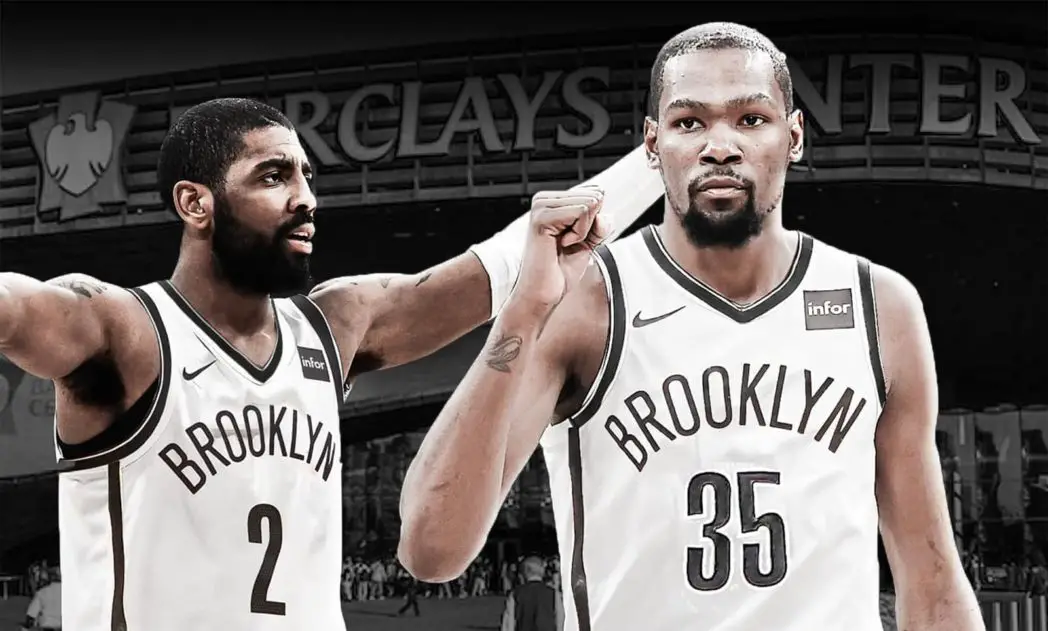 Read: LeBron James Signs a Four-Year Deal with the Los Angeles Lakers for $153.3M
In a tweet by the Official Twitter account of the Brooklyn Nets, you can see that both Kyrie Irving and Kevin Durant are practicing for the start of their pre-season and a trip to China next month to go battle with the Los Angeles Lakers.
We've been working. pic.twitter.com/QtLjmZEuAW

— Brooklyn Nets (@BrooklynNets) September 19, 2019
Why was Kevin Durant injured?
In the NBA Finals, Kevin Durant suffered a ruptured right Achilles tendon while playing for the championship ring against the Toronto Raptors. According to health experts, Kevin Durant is expected to miss the entire 2019 to 2020 campaign for the nets.
Read: Lin Supports Pacquiao's Newfound Faith, Hopes for Howard's Integration in Houston
Kevin Durant shows his new jersey no. 7 in a pair of photos with a black and white jersey number. He changed from his original 35 jersey number that he wore while he was with the Golden State Warriors.
Kyrie Irving to the Brooklyn Nets
In addition to that, Kyrie Irving, a six (6) time NBA All-Star guard, was also shown practicing along with Kevin Durant with the Brooklyn Nets. Kyrie Irving was with LeBron James in winning the title with the Cleveland Cavaliers back in 2016.
He left the Cleveland Cavaliers to join the Boston Celtics at the start of the 2017 season. He spent two (2) seasons with the Celtics without a chance at the NBA Finals–he then decided to join the Brooklyn Nets with Kevin Durant for his season.
Read: Duterte Signs Law That Would Regulate Islamic Banks in the Philippines
Both him and Durant are expected to carry the new Brooklyn Nets with a hoard of young and new players. But while Durant is out recovering, Irving is expected to lead the whole Nets–this made himself a presence to everyone in the team.
The Brooklyn Nets will be opening their training camp next week prior to the event that they play two (2) preseason games with the LA Lakers in China as a part of their NBA China Games on the 10thand the 12thof October, 2019.
When will Kevin Durant play?
According to NetsDaily, the official fan page of the Brooklyn Nets, no news yet on whether Durant will be able to play the preseason games or even the official games of the season of the NBA.
However, Kevin Durant was seen in the Nets gear, for the first time, posing in front of white and green cameras. He wasn't wearing a walking boot, a cast, or even orthopedic sneakers but no news yet was made on when he will be eligible to play.
7️⃣ is in the building. pic.twitter.com/yjOAV8YDrp

— Brooklyn Nets (@BrooklynNets) September 19, 2019
David Levy, new Chief Executive Officer (CEO) of the Brooklyn Nets, said that they were able to talk about how the Nets would be marketing both KD and Irving. He said that this is a big opportunity to market their stars and, of course, to cultivate their young team.
We're going to market our stars, our team, our culture. That's opportunities for bigger sponsors, and the foundation Sean and Kenny built is going to help me do that."
Read: An 18-Year-Old Passes and it's Because of Cardiac Arrest—Here's How it Happened
In addition to that, he also put emphasis on the fact that Kevin Durant was injured; and he told that it can be a part of the marketing strat of the team–Kevin Durant's recovery.
 Ultimately, I think there's a good story around the comeback of Kevin Durant. 'How does he rehab? What is he doing? How is he embracing himself in the community of Brooklyn?' And I think Kevin is going to like that kind of thing. I think that's a big story in itself. As the team hopefully wins on the floor, what's it going to mean when he's back in and how is that going to affect things here and there? So I think there's a lot to use with Kevin."
Are you a Durant fanatic? What were your reactions while Kevin Durant shows his new jersey no. 7 with the Brooklyn Nets alongside Kyrie Irving? Could this thing work? While we're waiting for it, let's wait and hope that we can witness basketball history with them.