The famous Raffy Tulfo, along with his brothers rose into popularity due to their  various prime time shows, which featured the problematic situations of Filipinos.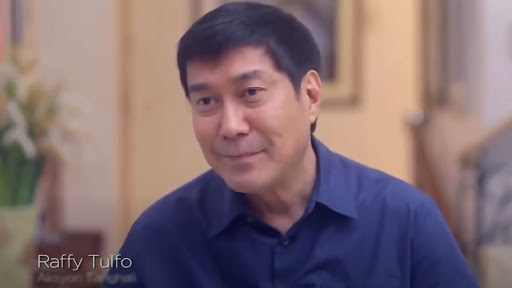 They included offering assistance to the marginalized and the poor. Now thanks to Youtube, he amassed over P2 billion in earnings. One could only question how the Raffy Tulfo P2 billion earning was possible.
But then his Youtube channel is followed by 15 million people; so the Raffy Tulfo P2 billion earning would, of course, be easy.
Read: No SAP 3rd Tranche for Release
However, how does he spend the P2 billion earning? Do you think that he's well-deserved to be earning what he is currently? More so, is it really true? Let us see for ourselves.
Spending the earnings
Several reporters have tried looking into how the Raffy Tulfo P2 billion is being spent during a virtual press conference the past week. Raffy bit into the bait and revealed a portion of how he has been spending his earnings.
Tulfo stated that a major part of his earnings go towards those who need help such as the poor — albeit in a vague way.
Read: Senator Bong Revilla to Give 1,000 Students Free Tablets
Malaking portion po no'n ay pinantutulong natin sa mga kababayan natin. So may pinunupuntahan naman po, para do'n sa mga nangangailangan."
In Translation: A large portion of the P2 billion is being shared towards my fellow Filipinos especially the poor.
However, he clarified that not all of the Raffy Tulfo P2 billion earning goes to charity. Some part of it is even being shared towards his family.
Of course, mayroon ding parte do'n na nagagamit ko. I'll be lying 'pag sasabihin kong lahat napupunta 100 percent do'n sa tulong. Mayroon din pong napupunta sa akin, sa pangangailangan ko, sa pamilya ko. Pero a big part of that money goes to helping the poor."
In Translation: Of course, I use a portion of the earnings as well. I'll be lying if I say that 100 percent of it goes towards helping others. I receive some part of it as well as my family. But a big part of that money goes to helping the poor.
Read: DOLE to Propose Deferment of 13th Month Pay
Tulfo added that he doesn't think twice with sharing the Raffy Tulfo P2 billion earning upon his mother. But with his siblings, it's a different story.
Iyong mga kapatid ko, may mga pera [na] sila, so hindi na nila kailangan ang mga tulong ko. Baka mainsulto pa sila 'pag binigyan ko sila ng pera."
Most Popular Channel
Tulfo's "Raffy Tulfo in Action" YouTube channel, which many Filipinos turn to, to have their problems solved, is the most popular celebrity channel in the country.
Read: Facebook AI to be in Effect Soon
He has more subscribers compared to Alex Gonzaga and Ivana Alawi who both have a fair share of wide fanbases. As a matter of fact, he's like one of the channels that possesses most subscribers!
In case you're not aware, he's the second Filipino Youtuber with over 15.2 million subscribers. Just above him is ABS-CBN Entertainment with 30 million subs; Ranz Kyle one level lower at 13 million; then Ranz's sister, Niana at 12 million.
On a daily basis, the Raffy Tulfo In Action (RTIA) channel has its subscribers  increasing at a gradual rate – nothing serious. But, if you look at it in a bigger picture, you will be able to tell that it really is something that is making him richer.
People's Trust in Raffy Tulfo
Raffy Tulfo mentions that his success is due to the credibility he established to the masses through the years. Apart from the fact that he's widely famous because of his TV shows; the credibility that he was able to establish is one of the many reasons why he received this type of fame.
Read: How to Enroll in TESDA's Free Contact Tracing Training
Based on how you look at it; is the Raffy Tulfo P2 billion earning well-deserved? Do you think that this blessing is truly one of the better reasons why he is earning what he is currently?
The Truth
To respond to the alleged Raffy Tulfo P2 billion earnings, the TV and YouTube star said that it's not anywhere near true. As a matter of fact, he said that his total earnings haven't even reached P1 million.
Mula noon hanggang ngayon, pagsama-samahin ang kita ko hindi pa umaabot ng isang milyon. Much more 2 billion."
In Translation: Ever since the channel started, if we compute for the combined income, it hasn't even reached a million pesos. Much more 2 billion.
However, he thanked the columnist of the article who had high regards of him and his service.
What do you think of this?
Source: Phil News