Dengvaxia has been a huge deal especially for Filipinos. The Dengvaxia controversy, which started around April of 2016 when the Department of Health (DOH) launched the school-based dengue vaccination (Dengvaxia) in major parts in Central Luzon, Metro Manila, and CALABARZON.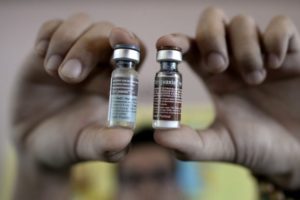 The Pharmaceutical company Sanofi Pasteur was the company who innovated this. They made a statement that taking this vaccine imposes higher risks to people who did not have dengue infections before. As a result, the Dengvaxia mess began to take place where thousands of children died from complications following the taking of the dengue vaccine.
Read: DOH: Adults are Also Prone to Measles
No death directly caused by Dengvaxia has been confirmed by the DOH
Recently, the Department of Health worked hand-in-hand with various companies and institutions in determining the status of the Dengvaxia vaccine. Fortunately, no death has been confirmed to be directly caused by the Dengvaxia vaccine as the DOH told senators last Tuesday, the 15th of January, 2019.
Senator Panfilo Lacson debates with the DOH Budget during the Senate plenary, Senator JV Ejercito, who is both defending and sponsoring the budget as the Chair of the Senate Health panel, mentioned that there had been no confirmed cases of deaths caused by the Dengvaxia vaccine. Contrary to the belief that everyone has been carrying from the outcry from the Public Attorney's Office (PAO).
Ejercito further explained that the cause of death of these people are coming from other diseases or from dengue.
According to the doh, no deaths are directly attributable to dengvaxia. the cause of death is for dengue or other diseases. According to secretary duque, the pao's position is different from the doh."
Ejercito said that this was what they found after the discussions they had with the DOH Officials who was led by Health Secretary Francisco Duque III.
Read: The Universal Health Care Bill Approved by the Senate
On the contrary, Senator Lacson was insistent that the DOH must have better resources in terms of giving out vaccines and other forms of medication to the public.
Isn't the doh more competent?"
Lacson also notes that the Dengvaxia vacine has been approved in twenty (20) other countries.
Read: PhilHealth Launches Z Benefits Package for Children with Developmental Disabilities
So, the Dengvaxia vaccine is not really the reason for the deaths of children and people. What do you think about this?