The Department of Health (DOH) gave a reminder to everyone to watch out for flu as they have observed its trend in the past years. As per the department, a lot of people have been infected by flu and it is more common in January.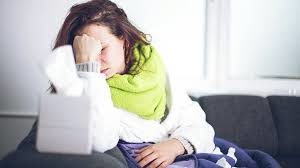 The DOH's data showed that from the 2nd of December 2018 to the 8th of December, they were able to tally 249 cases of flu and flu-like illnesses. In addition to that, they also said that its number increased every January of the following year.
In this article, we will give you a slight lesson or reminder on how a flu works. More so, we will be enumerating some of the common symptoms and tips in order for you to be safe.
Read: The Universal Health Care Bill Approved by the Senate
What is a flu?
The flu is a viral illness which is spread by sneezes and coughs. It can cause illnesses from mild to severe but is treatable. Some people have the misconception that the flu is the same as colds but it is different. As a matter of fact, when you have the common cold, the symptoms are likely the same but the feeling of the person who is experiencing it is a lot different.
How can a person get the flu?
A lot of people think that it is just transferred by having the virus penetrate through the nose and the mouth. Although some part of it is true, the flu virus can actually spread to up to six (6) feet away.
More so, if a person touches an object or a surface that has the flu virus, and they put it in their eyes, nose, and mouth, they are more likely to be infected as well.
DOH Undersecretary Eric Domingo said that every year, a different strain of virus infects people.
It's a viral illness, tapos taon-taon, ibang strain siya usually na dumarating na virus. Symptoms niya lagnat, minsan walang lagnat, per common na may sipon, ubo sore throat. 'yung iba nag chi-chills tsaka para kang walang gana."
Domingo is explaining the common symptoms of the flu. To add further, he also said that sometimes, a fever is not a necessary flu symptom but it is a common one.
The most common flu symptoms are:
Fatigue
Dry Cough
Sore Throat
Headache
Appetite
He also added that a flu can actually last up to a week seven (7) days. So, if you feel like you are experiencing symptoms of a flu but it only lasted for about three (3) days, that might just be a severe case of the common cold.
How can a flu be treated?
There are over-the-counter medications you can take in order to help ease and relieve the flu. However, as per the Department of Health, proper rest and drinking correct amounts of water can drastically help.
However, if a patient is feeling crestfallen and lousy, they need to be taken to the nearest hospital in order for them to be checked. More so, they will be given the correct medication for their recovery to be swift.
Read: DOH: Adults are Also Prone to Measles
Domingo also did not forget mentioning that it is more dangerous for senior citizens and babies especially if the flu will come with bacterial infection. So, he gave all parents the advise to have an influenza vaccine for their babies in order to have higher resistance to it.
In another news, the DOH also mentioned that there are currently no pneumonia outbreaks in the country. Despite the reports that are currently spreading in social media, the DOH confirmed that there is no such thing.
Read: The HIV cases in our country is now Very Alarming
Erik Domingo said that the only thing that is currently breaking now is flu infections.
It's Not an outbreak because flu is really expected this time of the year and the rate is not usually higher than the previous years."
Erik explains to ABS-CBN news in a message saying that we should have no worries on pneumonia because what we have to think about is flu infections, given the fact that according to reports and data, that is what's common in this specific month.
Although that is the case, the DOH still urged everybody to take extra precautions and care to avoid getting either flu or pneumonia.
Read: PhilHealth Launches Z Benefits Package for Children with Developmental Disabilities
So, you now should take care of yourselves. Especially that the DOH did not fail to remind everyone of the season. However, it should be general knowledge to take care of our bodies even though it's not flu season because the flu can strike you without you even knowing it.