Mobile Data Connection—one of the most important things that almost everyone needs nowadays, especially when we are outside and no available wi-fi is present. Normally, we use data connections of our smartphones to communicate with others; there are times, however when some people use it as a tool for information we need on the web.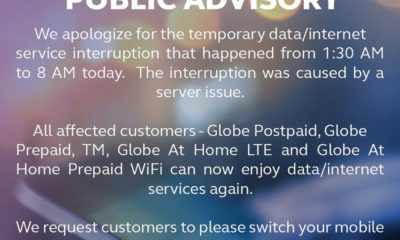 One example that really gives proof that data connection is really important is the use of Facebook Messenger as well ass other third-party applications for messaging. Here in the Philippines, Facebook Messenger is free to use even without any data add-ons in your phone so as long as you have your mobile data turned on; you're good to go and you can chat anyone.
Read: BPI Reports That Their Online Services are Now Restored
Yes, even if you have 0 data, there's this thing in the Philippines that we call Free Messenger and this functionality is available to a lot of Philippine subscribers as a part of getting a specific promo.
But what if you are experiencing interruptions in terms of using you're data services? What if suddenly, you experience delays and connectivity issues even if you have proper data connection. Knowing that it's important, Telecommunication companies should do their best in case their customers experience any service disruption.
Seeing that you're currently reading this, you might be one of Globe Telecom's customers right now who is experiencing some connection issues on your phone.
Globe Telecom released a statement saying that today, Friday (April 12, 2019), its mobile customers were affected by ongoing system issues leading to temporary internet connection lost for its subscribers.
As said by their Head of Corporate Affairs, Yolanda Crisanto, the system is experiencing some issues in the systems which is the reason why there are a bit of discrepancies in the network.
Globe has an ongoing systems issue affecting data services of its mobile customers. Our service team is currently working to restore services as soon as possible."
Globe Telecom's service issues
It's not the first time that this happened. In fact, there were several times as well in the past that some of their customers experienced service interruptions. The only difference of the interruption now is that they can't really give any estimated amount of time that they'll be able to resolve the issue.
Read: DICT to Look Into the Hacking of Government and AFP Websites
On a side note, if you weren't aware, in the past as well, system issues in the company has also lead to leaks of personal information of their customers. We have made an article on that, and if you want to check it out, just click here.
To be able to pacify the situation and to relieve the frustration of the subscribers, Globe Telecom said that they would send another update as regards the issues in a few hours to let their customers know.
Turnaround time
As mentioned above, there are no specifics as to when this service interruption will be fixed. However, most of the subscribers in different regions in the country were able to recover from the interruption. But that's still not final because at any given time, their services might have some sort of discrepancies yet again.
What should you do?
In Globe's part, they're currently looking for permanent and long-term resolutions to address this concern. As customer/s, you should help Globe by spreading the word that technology is not a perfect scheme; in fact, there will be a lot of times that this will happen but it's all just for the betterment of the services.
System issues are things that we can't really predict. As a matter of fact, things like this are expected to happen even in big companies because of the simple reason that technology is not perfect as well.
In the meantime, the best thing that we can do is wait and check for alternative options to be able to access the Internet—say connect to a free wi-fi, or to ask for hotspots from friends and family.
Rest assured that Globe is doing their best as well to hasten the fix on these types of problems. Customers are bound to get upset the longer the issue persists especially they have 74.1 million subscribers, whom some of them really needs the data connection.
Read: DFA's Feedback Mechanism Makes Passport Concerns Easier!
As of the moment, no compensation has been sent out by Globe regarding this issue.