The Marvel Cinematic Universe (MCU) has taken a lot of Filipinos into frenzy. After the Avengers: Infinity War, a lot of people have been hooked to the series and tried their best to be able to catch up with what's happening. In a few days, the Avengers: Endgame will be screening. In fact, the Philippines is one of the few lucky countries who will be catching this exceedingly anticipated movie as a successor of the Avengers: Infinity War because it's going to premier on the 24th of April 2019; while the U.S. will have it showing on the 26th.
And yes, you've read the title right. Some cinemas will be open for 24 hours to be able to accommodate the millions of MCU fans. Vista Mall Taguig, together with Vista Cinemas in Evia Lifestyle Center will be open for the whole day from the 24th of April until the 28th because of the Avengers: Endgame.
Read: Children Can Watch the Movie Dumbo For Free!
Yes, they made it so that everyone can go and enjoy the movie following Avengers: Infinity War.
What time would be the first screening in their cinemas?
Early birds, rejoice, because the screening would start as early as 6:01 A.M. on April 24, 2019. Book it so that you're ahead from everyone else! You'll be able to see the movie earlier than everyone you know.
On the 25th until the 28th, though, the screenings would start late (or earlier) because it'll start at around 3 or 4 in the morning. So, the 3-hour movie can be enjoyed by early risers without the hassle of them being piled up in a long queue!
If you want a better experience, Evia Lifestyle Center has the first IMAX with Laser. This actually is the first in Southeast Asia so don't miss out on the opportunity. Marvel fans would definitely want this in their experience.
Read: Movies that can make you look at life differently
This theater actually comes with a 12-channel sound technology, a 4K laser projection, and leather seats that will make and leave you comfortable for the three-hour intense action.
Are Vista Malls the only malls who will be open for 24 hours?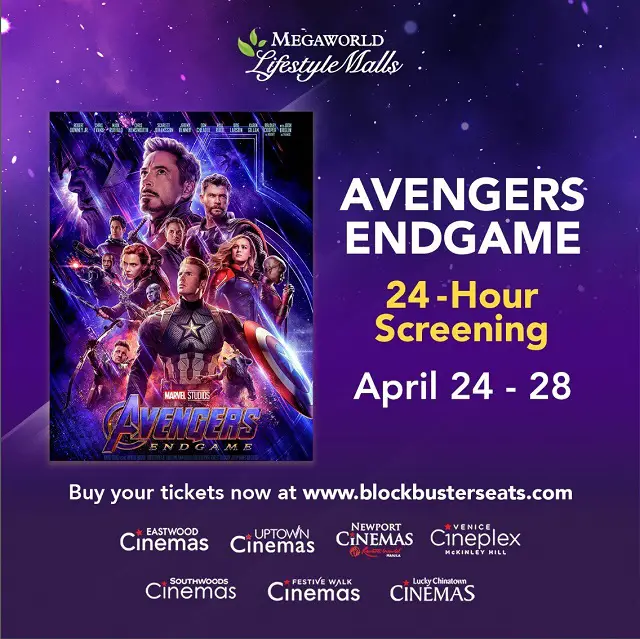 At first, we though Vista Mall was only the body who would dare to do this. However, a few days ago, Megaworld Lifestyle Malls in Manila, Iloilo, and Laguna, joined the hype and announced that they will screen the Avengers: Endgame all day too from the 24th of April until the 28th! Be prepared because this doesn't happen often; they might have some sort of a surprise after the 3-hour movie takes place!
So, you'll be able to watch your favorite series in Uptown Cinemas in BGC, Newport Cinemas in Pasay, Eastwood Cinemas in Quezon City, the Venice Cineplex McKinley Hill in Taguig, and Lucky Chinatown Cinemas!
NOTE: You will experience a whole new level of entertainment because the Uptown Cinemas in BGC has a cocktail cinema bar and Newport Cinemas in Pasay recently made renovations of their theaters.
What time would they start screening?
Just like the Vista Malls, Megaworld will also start screening the Avengers: Endgame at 6:00 A.M. sharp. Yes, Eastwood, Uptwon, and Newport Cinemas will start screening it as early as that.
The Venice Cineplex and Lucky Chinatown Cinemas, however, will screen it at 7:00 A.M., while the Festive Walk Cinemas and Southwoods Cinemas will have openings at 8 in the morning. 
How much would the tickets be for the Avengers: Endgame?
As of April 5, 2019, the ticket prices for regular cinemas for the Avengers: Endgame is P270.00. Ultra cinemas, however, are priced at P450.00. So, you can watch your favorite Marvel superhero at just an affordable price! Adding a bit of experience, however, will price you a bit more expensive but hey, it's all worth it for a 3-hour roller coaster ride, right?
Are you interested in watching the newest addition and possibly the greatest, by far Marvel Cinematic Universe movie? Do you want to see how the team of Avengers would defeat Thanos? Find out more and watch the movie!
If you care to try the 24-hour Avengers: Endgame screening, you can check the respective websites of the cinema houses and try ordering tickets there, too! But don't worry, you can also watch it in your local cinema houses too!
Buy your tickets now by visiting www.blockbusterseats.com!