Plastic is one of the most dangerous resources being used by man. As a matter of fact, it's one of the real killers of sea creatures that we grew up knowing. So, a lot of companies, countries, and different institutions try to encourage people and customers to refrain from using plastic materials.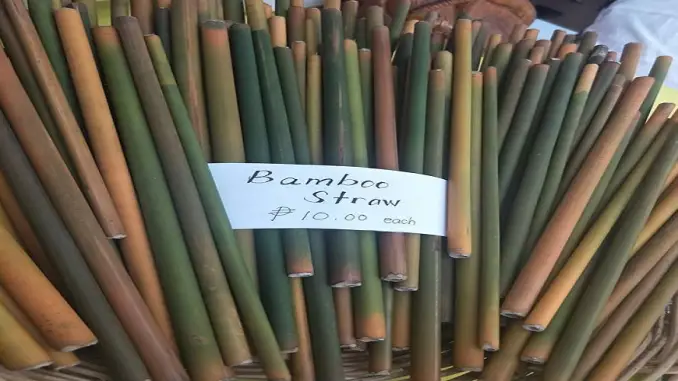 In the Philippines, Misamis Occidental, a province which can be seen in the Northern part of Mindanao, already started to implement the use of bamboo straws as an alternative to the traditional straws used by many establishments.
Read: 51.7 Degrees Celsius Heat Index in Dagupan City
The green initiative
According to the government of Misamis Occidental, this is a huge step forward in becoming a community that is eco-friendly; a green initiative that is observed to give aid to all institutions to make the world a better and a cleaner place.
Jaylo Estoque, a representative in the provincial tourism office, made a mention that they are already rolling-out bamboo straws. It's currently being sold for ten (10) pesos each in Oroquieta City, specifically in the Misamis Occidental Enterprise Development and Research Center (MOEDRC).
Jaylo Estoque is also the manager of a pasalubong center. He told Inquirer that their office was able to convince the town of Concepcion to innovate these straws and to market them as being a part of the market and to everyone who considers that the high town is rich in Bamboos and the like.
Kasi bandang bundok na ang area nila at marami rin ang bamboo sa kanila. Para dagdag income na rin sa mga indigenous people."
Where did this idea come from?
I know that paper straws and other forms, as an alternative to plastics, has been used by a few different companies. However, the idea of using bamboo straws came from their travel from the Bukidnon province.
He said that he saw people use and distribute bamboo straws. In fact, Estoque said that it was kind of a normal thing for them to be using these bamboo straws.
Nagpunta po kami sa Bukidon. Nakita namin na may tindahan doon na nagbebenta ng bamboo straws. Nagka-idea kami since marami namang bamboo ang Misamis Occidental, why not copy them, nakakatulong pa kami sa nature."
Bamboo as an alternative to plastic straws
According to Estoque, they are currently encouraging the public, mostly the tourists to stray from using plastics. Instead, they can use bamboo for their straws. He also said that these products are not only healthy for the environment, it's also a good way of reusing these straws—thus, an extremely effective alternative to using plastic straws.
Read: PH Government Processing Proposed 22 Manila Bay Reclamation Projects
He points out and gives emphasis on the fact that people don't really need to use a plastic straw. A very good way of shunning from this is by using bamboo straws as an alternative.
Hindi na po kailangang gumamit ng plastic straw. Pangmatagalan po ang bamboo straw. Kahit ilang beses niyo siya gamitin. Hugasan niyo lang at patuyuin."
This fact swiftly circulated social media and other news and blogs. The province quickly got recognition and earned a lot of shares and respect. Because of this initiative in helping the environment, Misamis Occidental quickly became viral.
Meanwhile, Estoque's post already reached around 4, 000 shares and more than 3, 000 reactions. By looking at this, it's quite evident that our countrymen also just wants the best for our environment. Thus, making this innovation a hit even if it hasn't reached the whole of the country yet.
A cafe in Siargao also became a hit after the news of them rolling out the utility of Lukay straws. Lukay straws, unlike bamboo, are made from coconut fronds or the leaves of palm trees, making it have the same importance and effectivity as of the bamboo straws.
Read: Sugba Lagoon, The Famous Lagoon in Siargao, Closed For Rehabilitation
One study of the Great Britain pointed out that the Philippines is one of the world's countries leading the usage of plastic. More so, our country is one of the main contributors in the heeded plastic in the ocean floors.
So, with this change, hopefully, the Filipino folks will refrain from using plastic straws and instead, try to find better and more eco-friendly alternatives.